Astro's Playroom – Review
The Arcade
Rating:

8.6

/ 10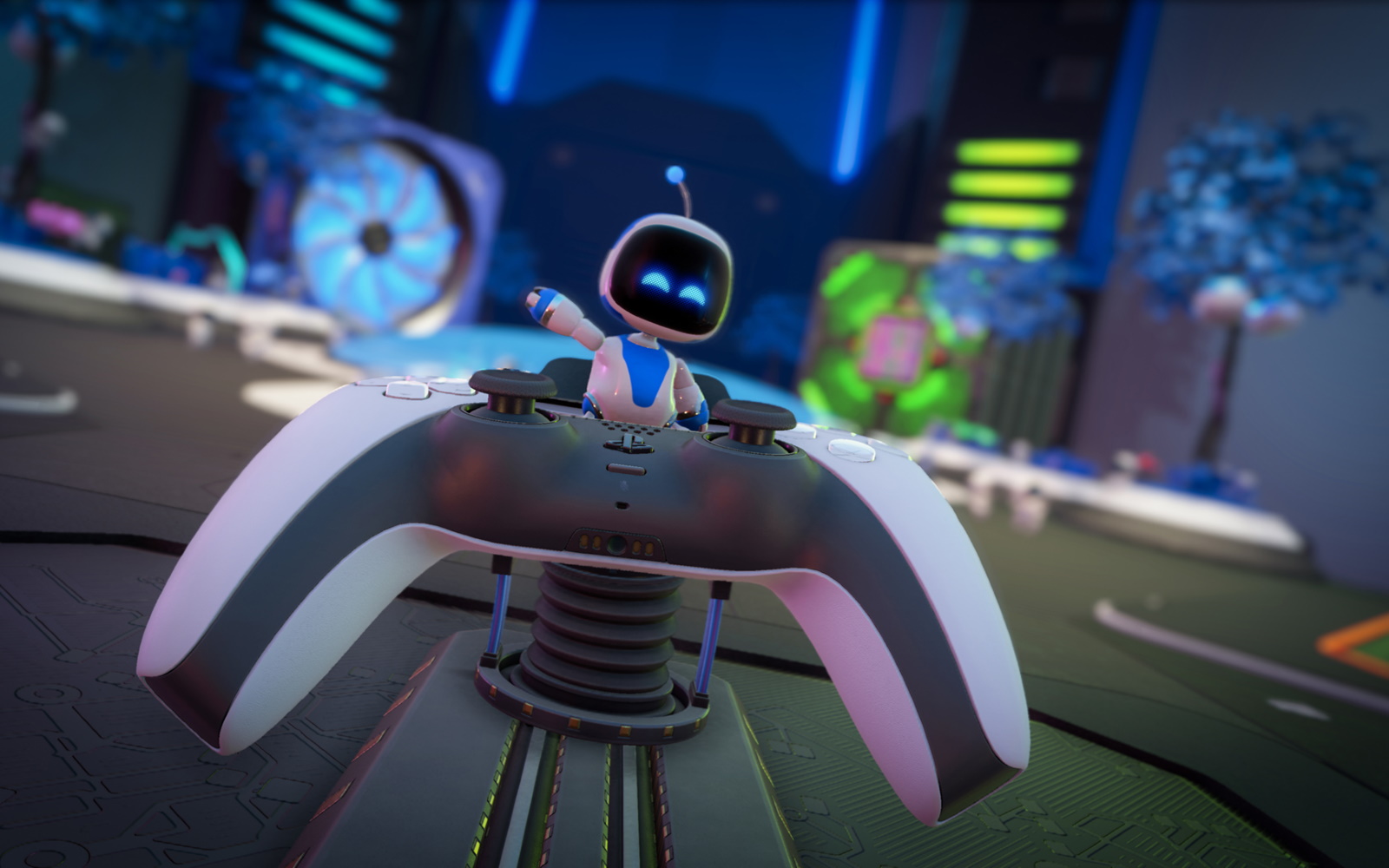 8.6
Astro's Playroom – Review
Booting up the PlayStation 5 for the first time, I knew the first game I'd be playing, would be Astro's Playroom. Now, it was convenient that it's free and already pre-loaded onto the PS5, but even still it was first on my list. What I was surprised about, was how much I loved playing this showpiece for the new console and its controller.
The Little Robot That Could
Now this isn't Astro's first adventure, with his first outing being on the PlayStation 4. He was one of the many AR bots in the interactive demonstration, called The Playroom. It was a short set of mini-games, that show how the DualShock 4 and the camera reacted to each other, along with the DualShock 4 touchpad, gyro and other features. It was short and certainly more of a demo than a game.
Astro returned in his own fully fledged title, called Astro Bot: Rescue Mission for the PSVR. With an actual campaign this time, it perfectly showcased and immersed you into a VR world, while being a fun and engaging platformer.
Japan Studio and ASOBI Team return for a third outing, as Astro's Playroom has players explore the world of PlayStation, with areas themed after each of the consoles and packed with Easter eggs and nods to iconic franchises. In tandem of this walk down memory lane for the brand, you will also be introduced to the new features of the PS5 DualSense controller. Although it's not the most visual intensive game, it has a mascot style aesthetic, that fits its need and has great particle effects, lighting and butter smooth frame rate.
Let's Get Ready To Rumble!
You start your journey, cleverly inside the PlayStation 5, with hub areas themed after the console. Each hub world is split into 4 levels and you'll have to jump, roll, and climb your way through each. While most of the platforming sections aren't overly complicated, they are sprinkled with some short weapon sections, minor branching paths, varying enemy types and some concealed secrets.
Each movement or action you take in the world, will give direct feedback via the new DualSense controller. Now, while most modern controllers have had feedback with vibration and rumble motors, the DualSense using more precise haptic feedback. From walking on a rough terrain, trudging through mud, showered in drops of rain or even walking against a strong wind, each gives a notably different and unique sensation. Mix in sound effects from the controllers speaker itself, the DualSense is as part of the experience as the game itself.
The DualSense also expands and improves on features from the DualShock 4. Triggers are now upgraded to give force feedback. You will feel varying resistance to pulling a bow or firing engines on a rocket and even adding strain to loading a spring suit jump. The touchpad and in-built gyros return and are implemented in a ball rolling power-up and the gyros are used to help climb in a monkey suit power-up. Added to the mix, are a pair of in-built microphones, although these are only used to blow on a pinwheel, similar to using the mic on a DS console. But it certainly allows for plenty of creative input opportunities in future titles.
PS I Love You
The world of Astro's Playroom isn't overly vast, but you can explore and find puzzle pieces, hidden artifacts themed after all the different consoles & their accessories and there are nods to classic games from the 25 year history of PlayStation. These are indicated by a bot wearing a blue PlayStation hat, holding a camera and are scattered throughout the 4 hub worlds. While some of these nods are cute gaming recreations of first party titles like God of War, Horizon Zero Dawn and Uncharted, there are plenty of third party inclusions like Resident Evil, Crash Bandicoot and Metal Gear Solid. Many of these had me actively smiling when finding them and I actively sought them out.
There is a museum area called PlayStation Labo, where you can view, listen to and interact with hidden artifacts you've found, while collecting all the puzzle pieces, will unlock a giant PlayStation mural. There are also a number of additional unlockables, calling back to the games of the past and PlayStation iconography. It was genuinely fulfilling seeing all the unlocks in one place.
More Than A Tech Demo
Astro's Playroom is a competent platformer, that is a love letter to world of PlayStation and a celebration of each era of the brand. I enjoyed exploring the world hubs and levels never drag out. You can complete it and find all the secrets in around 5-7 hours.
My only complaint is that there wasn't more to explore, as you could take many individual aspects of the title and expand them. With some added puzzle solving or combat sections, you could add more depth and challenge to suit players styles. But as it is a free pre-loaded title on your PS5, it is a must play. 
Reviewed on: PlayStation 5
Short Adventure With Big Heart