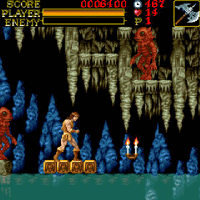 Castlevania Vampire Killer Banjo-style
If you told me I'd be listening to the banjo today, I'd have gawked awkwardly and slightly perplexed as to why the conversation was about banjos! If you then told me I'd be absolutely elated and enthralled by a banjo cover of a classic platformer, a dark supernatural platformer, I'd have asked you if you needed help finding your way back to la-la-land. Then this video of Ollie LongZ covering 'Vampire Killer' from the classic Castlevania landed in my lap and…. it is fantastic!
Castlevania was ported to the NES and released in the US and Europe in the late 1980's and it's the very first time we meet Simon Belmont. For those of you who don't remember this particular track here it is in all it's glory but I think it's fair to say Ollie's banjo cover is pretty spot on!
Editor-in-Chief, part-time super villain and hoarder of cats. If you can't find me writing, I'm probably in the kitchen!