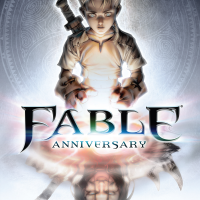 'Fable: Anniversary' is set to hit Xbox360 this February, and I couldn't be more excited. I've been a huge fan of the 'Fable' series since I played the first game, and I was a little unconvinced when I heard they were remaking the first game. I personally thought it wouldn't be that much of a different game and that they were wasting time and money on remastering something instead of creating a new game.
But, to my gleeful surprise, I soon learned that infamous Peter Molyneux wasn't involved with the production of this new edition of 'Fable'. This is good news for 'Fable' fans as Molyneux tended to hype up Lionhead Studios projects, but failed on delivering a solid game, which we saw with 'Fable II' and 'Fable III'. Now, don't get me wrong, they were enjoyable games but they had their faults. They were too short, dumbed down and in terms of content, there wasn't a lot of things that set the games apart from others, unlike the first 'Fable'.
Lionhead have stated that Molyneux 'wasn't allowed' near the project while the development was in progress. If you're still unconvinced, take a look at the trailer to see the difference 10 years can make!