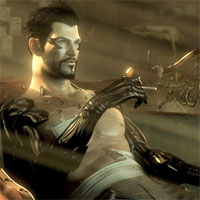 An announcement  from Eidos Montreal today, revealing  "Deus Ex:Universe", a next gen console/PC title, but it's much more than that.
Deus Ex:Universe is a next Gen title for consoles and PC(which is in itself great news),but Eidos has a little bit more to say then that, Deus Ex:Universe also extends to a larger fanchise world that Eidos Montreal is developing. David Anfossi stated that the franchise brand will not only be contained to consoles and PC,but will have support for tablets and phones.
"The concept behind Deus Ex: Universe is to create an ongoing, expanding, and connected game world built across a generation of core games," writes David Anfossi, the head of the Eidos Montreal studio in the company's blog, "It's a commitment on our part to deliver meaningful content that expands the franchise on a regular basis and to deliver a deep conspiracy that will span several connected Deus Ex games, creating a more immersive and richer experience than ever before."
This is a interesting turn of events I have to say now that Eidos have brought back the Deus Ex: Universe with Human Revolution, it seems like the brand is finally back and on fire. The announcement for a console and PC(I love you Eidos) title is great news, but the fact that the franchise will also be leaning on Tablet and phone devices isnt exactly brilliant news, especially with the lack luster "Deus Ex: The Fall" for IOS. We will see what happens here but I am glad that the franchise is going places and hopefully it will be a pillar for the next Gen of gaming.