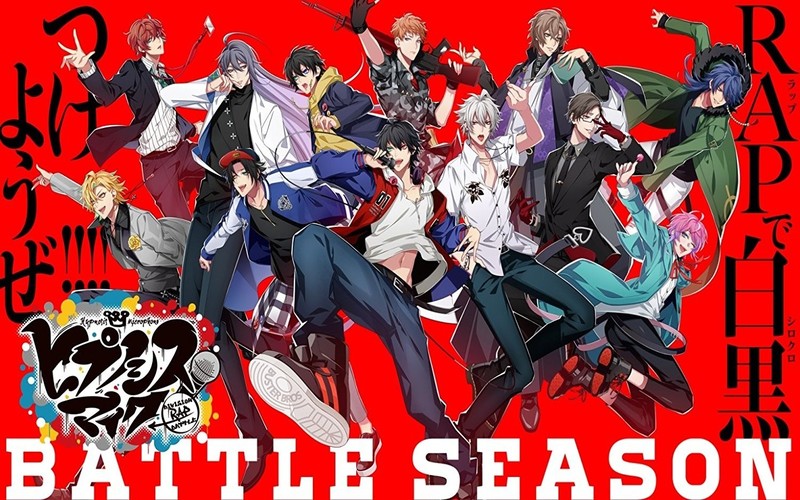 'Division Battle Anthem' – Hypnosis Microphone – Track Of The Day
For those who haven't heard, Hypnosis Microphone is absolutely booming right now. And for a good reason! With vocals from 12 Japanese voice actors like Kimura Subaru, Saitō Sōma and Hayami Shō,  the 2.5D music project is only growing in fans by the day. So if you ever felt an empty hole in your heart that can only be filled by 12 ikemen in a rap battle, well HypMic might be for you!
Welcome to the Division!
Within the series there are four current divisions – Ikebukuro, Yokohama, Shibuya and Shinjuku – each with their own leader and fellow participants. With Buster Bros!!!, MAD TRIGGER CREW, Fling Posse and Matenrou representing each of their divisions, there's no shortage of scuffles and territory battles by the members, especially since the leaders fight like cats and dogs due to their rocky past. Honestly with so many different characters it's hard to pick a favourite! There's the delinquent who doubles as a massive weeaboo, a corrupt cop working alongside the Yakuza, the broke and homeless gambler, a beautiful and charismatic host who happens to be an extreme gynophobe, or the overworked salary man who just really needs a nap. Really, take your pick because they're all quality boys.
So if any of that has piqued your interest, definitely check out Hypnosis Microphone below! And if today's track has left you wanting more, there's another 20 tracks plus more on the way with the anticipated released of Death Respect, MAD TRIGGER CREW vs Matenrou!
Just perpetually screaming about fictional boys