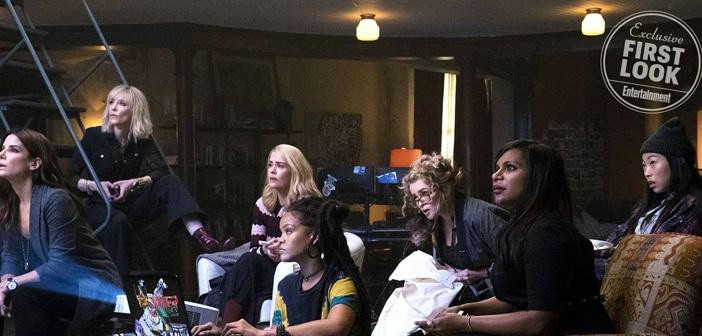 The latest installment of the Oceans franchise, Oceans 8 is due to hit theatres in June. The spin-off from the highly successful Oceans 11 franchise, previously starring the likes of George Clooney and Matt Damon, announced its all-female spin-off a while back. The spin-off stars Sandra Bullock as Danny Ocean's ex-con sister. Joining her is a team of recognisable faces, including Cate Blanchette as Lou, Rihanna as Nine Ball; Mindy Kaling as Amita; Awkwafina as Constance; Helena Bonham Carteras Rose; Anne Hathaway as Daphne Kluger; and Sarah Paulson as Tammy.
Thanks to Entertainment Weekly we have been provided with a great new photograph from the set of Oceans 8, showing the team in action: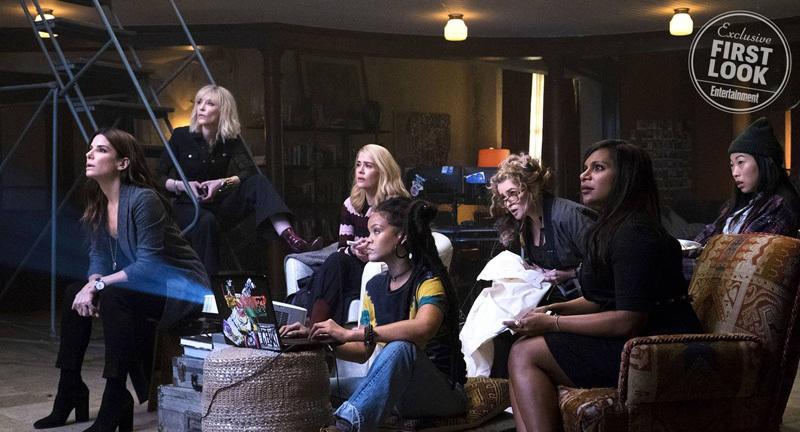 Talking to Entertainment, Sandra Bullock gave some information on the film, confirming her role as Danny's sister, and that a good old-fashioned heist will be the film's premise.
"I am Danny Ocean's sister. I've been incarcerated for about five years and you find out why during the course of the film. I mean, that's sort of a tiny subplot. But that's, you know, but I'm definitely his sister and we definitely come from the same family and we're both very good at what we do in our own special way. So you can only imagine that once I get out, that's when the heist ensues."
There has also been some backlash following the announcement of an old-female continuation of the series. But Bullock fights back against the comments:
"We're not a reboot. […] It's a parallel story of another family member that was raised in the same family Danny Ocean was and what happens when Debbie steps out of jail with all of these amazing, powerful women. […]  we've got some feisty women that will fight right back. It's like, let's just take a breath and let's just see if we come up with something fun."
We certainly look forward to see what they come up with!
Oceans 8 hits theatres summer 2018, and is directed by Gary Ross.
Looking forward to Ocean's 8? Let us know in the comments below!
Doing a little of this, a little of that. If you see me holding a camera, run!