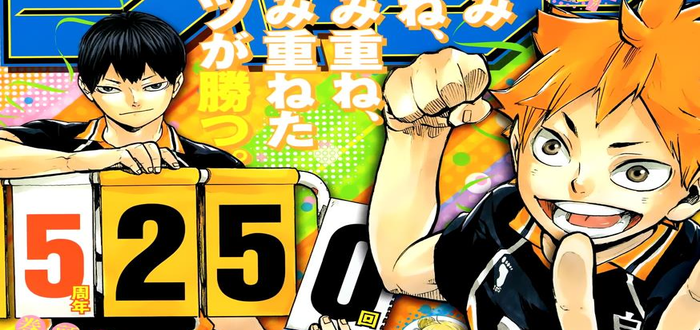 Haikyuu!! Karasuno VS Inarizaki – Otaku Review
So Haikyuu!! is by far one of my favourite anime, regardless of it's specific genre, but as amazing as it is, it's original manga by Haruichi Furudate, is just as thrilling and incredible! Unlike the anime that is currently awaiting it's fourth season, the manga is still ongoing with new chapters published in every issue of Weekly Shōnen Jump. Luckily enough, the series is so popular that it has its own dedicated scanlation team, and you only need to wait a little while for the newest chapter to be available in English over at readhaikyuu.com!
Now as far as my obsession with the series goes, I will never deny my undying love for those beautiful swan boys over at Shiratorizawa, the team I support and cheer for the most, my absolute favourites, my boys! Uhhh, wait, where was I? Ahh, yes, as much as I love Shiratorizawa, I have to recognise their defeat against the protagonist team Karasuno High School!
With Karasuno's win at the Spring High Miyagi Prefecture Representative playoffs, the team is off to Nationals in Tokyo!
At Nationals, Karasuno's won their first round match against Tsubakihara Academy, managing to a narrow victory of both the first and second set (25-23, 25-23). On their second day however, they face a new and even more fearsome foe, another powerhouse school, Inarizaki High School.
And this my friends, is where we're at. The second match for both schools begins in chapter 248, but it's only the very last panel, so for the sake of argument we'll go with 259 for the official start of the match!
For every good match, there needs to be an equally good (or awful) antagonist, and for Inarizaki that comes in not one, but two players. They're incredibly talented, and oh so popular among the ladies, please give it up for the Miya brothers! Miya Atsumu and Osamu!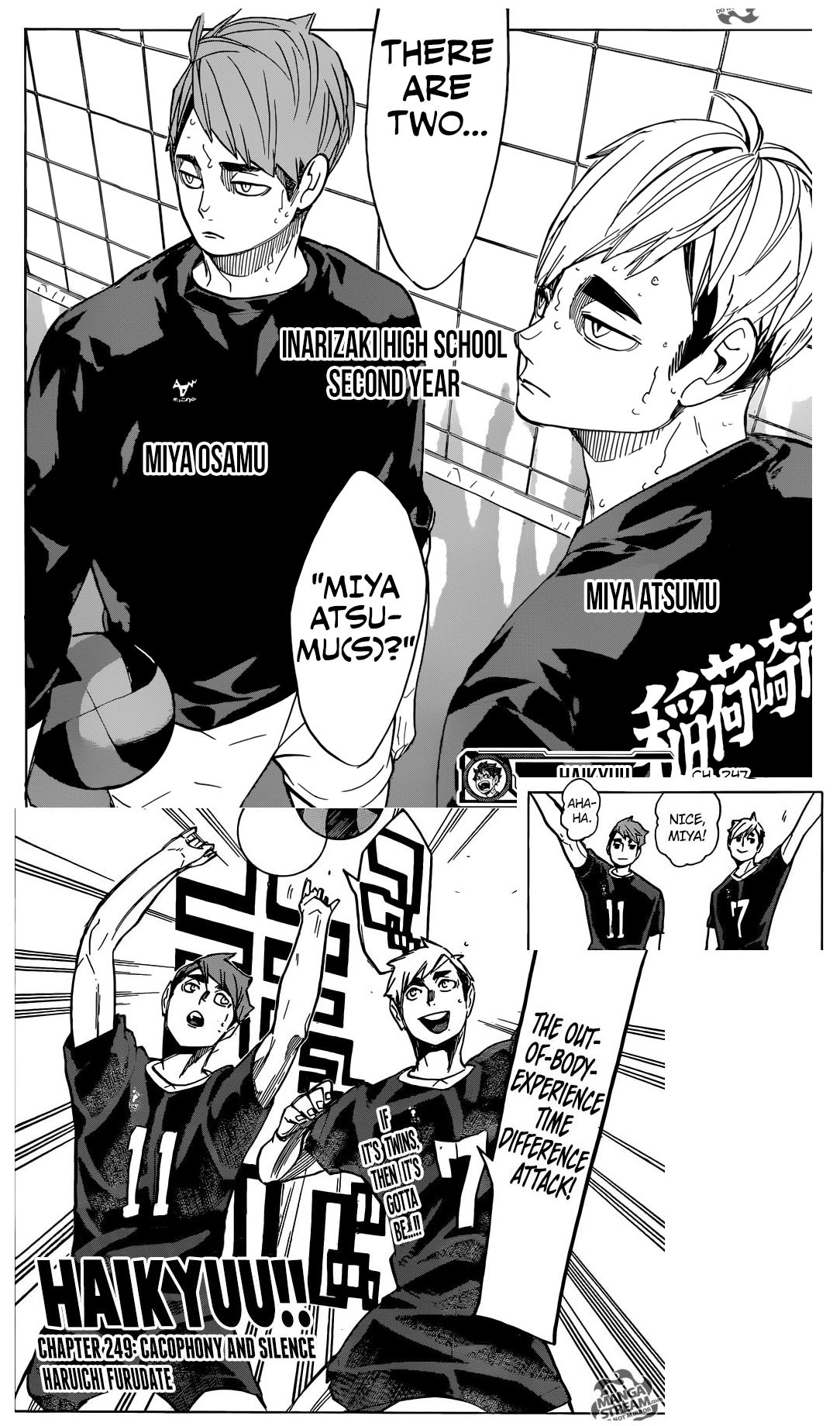 Yep, will yah look at that, TWINS! We've got twins, ladies and gentlemen! Ugh, beautiful.
Okay so admittedly, in my opinion anyway, I wouldn't say both are the 'antagonist', and let's be real, I'm using air quotes in real life as I sit and write this because Haikyuu!! has no real antagonist because you just have to love every character, d-bag or not. Sorry, I don't make the rules! But as I was saying, I'd personally only suggest Atsumu when singling out a definite antagonist.
Compared to Atsumu, Osamu is calm and laid back and maybe just a little deadpan, but he won't miss a chance to tease his brother! On the other hand,  Atsumu is arrogant and condescending, and definitely has a sharp tongue when annoyed on the court, but he's not entirely all that bad. Yet, anyway. A good few chapters back, we actually met Atsumu previously, during the All Japan Youth Intensive Training Camp arc, when Kageyama was invited to attend.
Personally, I'm still waiting to form a whole opinion on him, but right now I'm excited to see more of both twins' skills during the match!
Have you read this manga? What did you think? If not, give it a go!
Just perpetually screaming about fictional boys