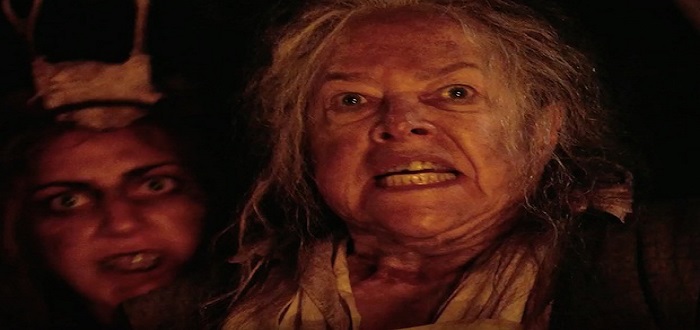 The first episode had mixed reviews (with the 3rd highest ratings for a season opener) and moved slowly, but episode two quickly brought that American Horror Story feel back. Moving a lot faster, bringing more scare and gore, and bringing in what the story is really about with that stellar cast really bringing things together.
I was very pleased that the cliff-hanger of episode one was actually picked up at the opener rather than the usual dragging out. There was some annoying flash-forwards in the very start but these were just that; flashes. The action kicked right back up in the forest where re-enactment Shelby  (Paulson) wandered off and found some disturbing scenes. This episodes brings the exceptional Kathy Bates back (and is that Lady Gaga?) for some creepy demonic chanting, a theme which carries somewhat through the episode and gives us a sense of what might of happened to the colony of the season's title.
The continued use of found footage, almost a staple of 'reality' horror today, brings us more into the story with Paulson's Shelby finding a tape of a 1990's Academic, played by the talented Dennis O'Hare, giving his own testimonial of strange findings at the farmhouse. This section threatens to bring the story off on another track to the opening as he speaks of a deranged set of twins who lived in the house and killed old age people they were nursing.
Another subplot of the episode, where Matt Miller's sister Lee brings her daughter to stay, almost feels unnecessary. Yet as previous seasons have shown, haunted locations don't always have just one scary story in them, and Lee's daughter meets with a old time young girl who may be connected with the colony, so this brings things together. Furthermore, this sub-story gives powerhouse Angela Bassett something to do outside of being Matt's bitter alcoholic sister and thinking Shelby is a nutjob.  It also means that she starts to believe whats going on.
That is something i enjoyed about the episode; the trope of 'oh look this lady's seeing things and nobody believes her' is shorted out before it begins. Matt (Gooding Jr) begins to see things too and Lee's daughter goes mysteriously missing. The tale of the person (Lee) who does the wrong thing and then something goes bad is age old, but it still has redeemed mother potential. I am always fond of not so perfect mother stories as they break away from stereotypes of women. Shelby also proved herself to be a bit cool and different by deciding to stay in the house after the incidents in the woods and face her attackers.
Overall, the episode didn't feel nearly as scary but the show is definitely becoming more gory, and the faster storytelling made the episode feel very short, which is probably a good sign.
Let us know if you checked out the show so far and tell us what you thought in the comments! Also if you have any theories on where the show is going, or thoughts on the accompanying series that's coming, share them.