TheDailyMarvelite are reporting that the third Avengers movie could be looking at a split! While it has not been confirmed by anyone at Marvel Studios, the website does make some plausible notes even if their 'source' sounds a little dubious.
From what the site has proposed it seems that the split wouldn't tear the third Avengers movie in half but rather split the story meaning we could see a face off between Thanos and the Avengers in the third movie but it wouldn't be resolved, allowing the studio room to merge it's other groups, i.e. the Guardians into a huge show stopping power mad explosive finale.
There's been some talk about a merger between the different groups, Vin Diesel in particular sounds like he's going to burst if he has to keep the news to himself much longer:
"It was even talking about something so big I can't even talk about because it's like the merging of brands in a way, which I won't get into. That was something way, way, way, way, way down the road." (Interview with Maria Menounos)
You can be sure we'll keep you posted if this is confirmed!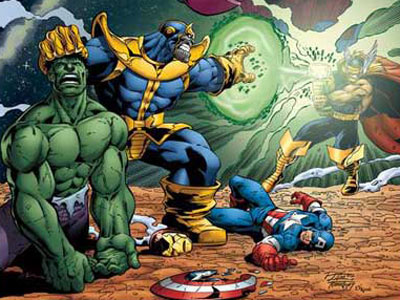 Editor-in-Chief, part-time super villain and hoarder of cats. If you can't find me writing, I'm probably in the kitchen!