Another week, another five things you might have missed…the Arcade has got you covered!

#5 Xbox One and Smite combine!
Gamescom has brought exciting news recently with Smite making an appearance on the Xbox One.

The release of Smite will give people of the XboX a taste of the MOBA genre. SMITE,  the free-to-play third person action multiplayer online battle arena for the PC, will soon be available on Xbox One.
Hi-Rez Studios, based in Atlanta, said SMITE will be available on Microsoft's Xbox One, via the ID@Xbox self-publishing program in 2015.
Since launching on the PC in Europe and North America in March this year, SMITE has established itself as one of the top games in the it'sgenre, with more than 5 million players. The game is themed around gods of mythology, offers a third-person camera and
#4 Release date for Godzilla 2 announced

With Gareth Edwards currently concentrating on a Star Wars spin-off movie (to be released in 2016), it was unlikely that we would be getting a Godzilla sequel any time soon.
As soon as the spin-off movie is released though, Edwards will be back on the Godzilla bandwagon, as Warner Brothers and Warner Bros and Legendary have announced the film's release date. You can expect Godzilla 2 on June 8th 2018. However, it make take some time before we have any more details on the film…watch this space…
#3 Teaser trailer for the Sinister Six movie released
A trailer for The Amazing Spider-Man 2 DVD holds some Sinister secrets hints…
It looks like the next film to land in the Spider-Man universe is now set to be the Sinister Six spin-off film.  Drew Goddard, currently working on that now, with a release date set for  November 11th 2016.
There's already been a little bit a tease towards the film towards the end of The Amazing Spider-Man 2 earlier in the summer. But as that film heads to DVD and Blu-ray, a trailer for the disc in the US has been dropping more hints. In short, if you buy the film from Target in the States, you're getting a Sinister Six bonus disc, which we'd imagine will drop even more hints.
The US release of The Amazing Spider-Man 2 is set for August 19th, and we get it in the UK from September 1st.
#2 Tim Burton's Batman 25th Anniversary Blu-ray releases in November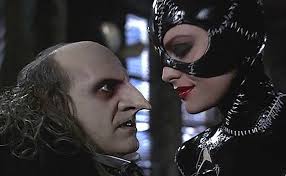 In anticipation of the 25th anniversary of Tim Burton's Batman, Warner Brothers Home Entertainment is set to release a Two-Disc Edition Blu-ray. It will be getting the Diamond Luxe collector-style packaging and will include Batman: Batman: The Birth of the Modern Blockbuster, a documentary on the marketing, merchandising and franchise that helped influence the Batman films.
The Batman 25th Anniversary Two-Disc Edition Blu-ray will be available on November 11, 2014, in the US.
#1 'Henchmen' gets a teaser, a new animated film from Will Ferrell and Adam McKay

Adam McKay, Will Ferrell and Chris Henchy are attached as creative collaborators and executive producers for a new feature-length animated film based on the Adam Wood short "Henchmen: Ill Suited."
The feature centres on Hank, "a lowly class three henchmen in the Union of Evil. It's not how he pictured his career, but as he says, "you just play the cards you're dealt". When Hank is forced to train an excitable young dreamer, he offers the same trite poker metaphor. Instead, the boy steals an amazing super suit, changing everything.
Adam Wood is set to return to direct the movie from a script by SNL's own Dennis McNicholas and is scheduled for a 2016 release.
Well that's it for this week – let us know your opinions and stay tuned to the Arcade for your news fix!