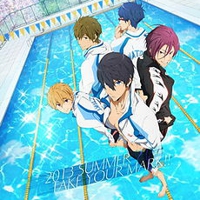 Review: Free! – Iwatobi Swim Club

No Anime fan is unaware of the term "fan service" in particular male Anime fans. Fan service is usually aimed at male viewers with a lot of boob and booty shots and angles. So imagine female Anime fans delight when Free! – Iwatobi Swim Club was created from a light novel and a simple viral video that fans dubbed "swimming Anime" and petitioned to turn it into a series. Low and behold we got Free! Free is simply fan service for girls. Consisting of a limp storyline but with the majestic beauty of the male figure to feast your eyes on; with each episode keen to make up for the lack of fan service Anime for women and girls.
Released:      July 24th 2013
Studio:           Kyoto Animation
Director:       Hiroko Utsumi
Writer:           Mashahiro Yokotani
The series starts with four young boys Haruka (Haru), Makoto, Nagisa and Rin all in "grade school" and participating in a local swimming club. They had all decided to enter a swimming tournament relay together before parting ways to study in different schools. It is only years later when the boys have enrolled in high school where Makoto, Haruka and Nagisa are reunited that they  their old swimming club is being torn down. The trio decide to go there to "dig" something up when they run into Rin who is supposedly back from Australia and attending a boarding school nearby. An old rivalry is awakened between Rin and Haruka which will be decided at the big tournament.
Even though it is based on a light novel there is no real story in Free! except that all these boys love to swim and that's pretty much it. Not biting? Well here is what Free does right. It has some very insightful characters. Each of the boys has their own back-story and individual development that is very engrossing, to the point that you could forget the fact there is no real main storyline binding them together… bar swimming, lots and lots of swimming.
Haruka Nanase is regarded by the fans to be the main protagonist and focus of the series – this boy loves swimming (seriously it's about a Swim Club, what were you expecting?) and water, to the point where he will randomly strip off and jump into any body water and you know what that means? So many fan service opportunities! This man is topless more times than I count. He is considered the strong silent type who has very limited expression in his face and has a hard time communicating his feelings to others. His character is not so much developed as discovered, we learn more and more about him as the series goes by but more about his past and why he has made the decisions he has in his life. His main line is "I only swim free"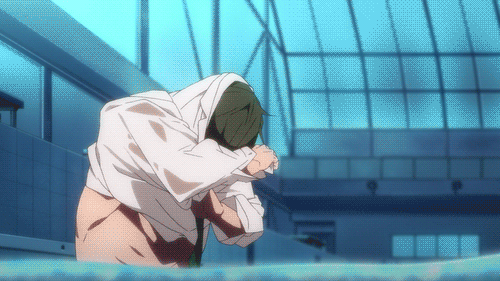 Haruka's best friend Makoto Tachibana is seen as the gentle giant character in the sense that he is the more outgoing of the two and often speaks in favour and up for Haruka. Although the "gentle giant" and one of the bigger built members of the team Makota is weak of heart and easily petrified in fear. His development is small but meaningful in the series; we learn a big secret about him and his swimming life that will leave you wiping tears away. His character is easily one of the most likeable and the one whose life can be easily draw you in and keep you hooked. Much like Haruka he has a preferred swimming style, his being the backstroke.
Nagisa Hazuki is the youngest of the group and is also seen to be just that. He is also the most feminine of the group. He is as hyper as he is adorable. He enrols in the same high school as Haruka and Makota in the hopes of swimming with them again. He idolises Haruka and his swimming to the extent that he compares his swimming to that of a dolphin. Nagisa is a strong minded young man who has no fear in saying whatever he feels and appears fearless at times. He is clearly the glue that holds the group together and where he lacks clear development he makes up for in being completely and utterly adorable. His preferred style is breaststroke.

If things are not beautiful then it's doubtful that Rei Ryūgazaki will like it. Built as the smart and hot book worm type Rei is only attracted to things that are "beautiful" even if not in the conventional way. He for example associates Haruka's swim style as something beautiful. Rei although at first hesitant to joining the group ends up joining through his admiration of Haruka and Nagisa's manipulation through a weird connection (Do I smell yaoi fan fiction?) Rei in the series holds a massive secret that hold him back in his swimming and through perseverance overcomes his "issue" in a more comic relief fashion than Makota.
Lastly Rin Matsuoka can only be seen as the antagonist even if he is not really a bad guy but he is the one to beat. Clearly he is Haruka's rival and after they all go their own way Rin heads to a top swimming school in Australia. Was nice to have clear placement in an Anime one being Japan and the other Australia. Upon his return it is obvious that there is tension between himself and Haruka where was once a friendship. What caused their heated rivalry? Rin as a character much like the others is not complex but he is an interesting character, he appears cold and acts like a jerk to everyone around him but throughout the series there is a soft side to him especially towards a certain person.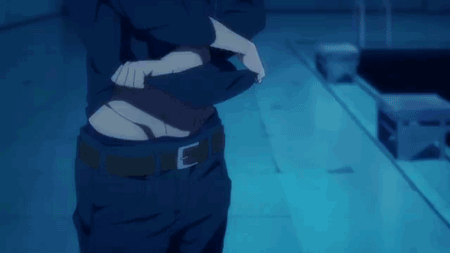 Free! is a real throw back to the original shojo style of Anime in its animation of colourful backgrounds and clearly defined character design where every muscle line in the male figure can be seen and is precise to the point of perfection. Free! borders on the genre of yaoi as there are many aspects of the genre seen in the series. The obvious being the fact that these young men are ripped beyond belief but there design has a major influence from the yaoi genre. There are always certain types of men used in yaoi and shojo and they are utilised in Free! there is the strong silent type, the "gentle giant" type, the book worm, the bad boy and lastly the boy lolita all attractive types of men. Where Free! differs from other Anime's that have tried this technique is the fact that the characters are not only appealing on a physical level but on an emotional one too – we like how they look but we care about them and how they feel too.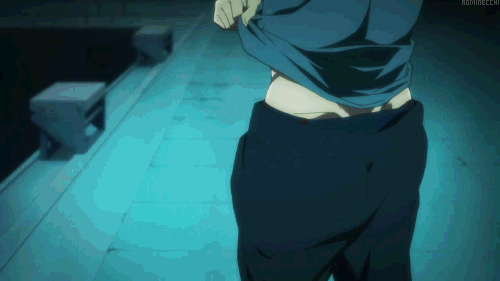 Free! is not shy about it being a fan service or that it is aimed at predominantly at women. Where male fan service Anime often have at least one male character for females to ogle Free! only hints at the option of fan service for a male audience, which from a female perspective was a nice change. More importantly these types of shows often have lacklustre narratives and while that is the case for Free!, the characters and their own personal stories save it and hopefully other shows will take this into account – men who are gorgeous but have personalities is a big development for the fan service genre, so let's hope it only keeps getting better!
Apart from its obvious flaws Free! was actually a very enjoyable series. It had a weak story that had no real appeal but mixed with the unbelievably likeable characters it made for an enjoyable watch to the point where the story seems better than it is.
[easyreview title="The Arcade Verdict" cat1title="Story" cat1detail="No real story but an easy narrative to accompany the characters." cat1rating="5″ cat2title="Animation" cat2detail="An excellent throw back and updated version of shojo colours and technique" cat2rating="8″ cat3title="Music" cat3detail="Shockingly amazing dubstep inspired soundtrack" cat3rating="9″ overall="true"]