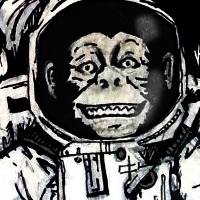 Tales from a Lonely Planet – Review
I am on a bit of an anthology buzz at the moment having recently purchased 'A Book of Horrors' and 'Zombies: an anthology'. I can't get enough of collections of stories, each one refreshing and new. A few people may not know this but I am also a fan of comic books and hugely appreciate the work that goes into creating them. In, fact with the recent explosion of comic-based movies it's obvious that appreciation for the comic book genre is growing all-round.  So when I got the chance to review 'Tales From a Lonely Planet' I jumped at the chance. I am so glad I did! An energising and charming read ensued with something for everyone.
Tales From A Lonely Planet is a science-fiction anthology e-comic, edited by Stu Perrins. Every taste is catered for in 43 pages of hard work from some extremely talented people , featuring Stu Perrins as Editor, Nick Gonzo, Niall Doonan, Trystan Mitchell, Marc Jackson, Luke James Halsall, Tim Bird, Dr Mike Cooper, Vince Hunt, Mike Gallagher, D. S. Georg, Daryl Gilliam, Blas Bigatti, José Buenabad and our very own Liam Kavanagh. Super-spies, mimes, aliens, heroes and all profits going to Cancer Research UK, this anthology has it all!
Kicking it off with a satirical strip, Editor Stu Perrins begins the anthology with Harvey Spigg in No Such Thing as Bad Press. The artwork by Nick Gonzo did leave me wondering about the rest of the anthology but that being said, the writing was charming and funny. So after some slight convincing I was won over and found this piece to be pleasant.  The first strike in this anthology proved to be a good one but maybe not the kick that the anthology needed. So although won over, the anthology still needed that jolt that would suck me in…
Next up in this anthology I found out what happens when one of the Dogs, from Quentin Tarantino's iconic debut film, becomes a vegetarian? Tarantino's film takes a turn as it follows an amusing conversation as "Dogs" by Niall Doonan answers the question in this particularly striking piece of work included in the anthology. In my opinion, one of the reasons behind its brilliance is because of the amazing artwork by Trystan Mitchell. This is the kick start this anthology needs – it's bizarre, funny and one of my favourite pieces overall.
Another personal favourite piece of mine is the piece 'Perfect' written by the Arcade's Liam Kavanagh and masterfully drawn by Mike Gallagher, lettering by O.S Georg and finishing by Daryl Gillian. The concept for this piece is striking and extremely well executed as it looks at what defines perfect through the eyes of a superhero with a few 'issues'. Why does he do the things he does? Its nice sharp ending spins conceptions on reasons behind superheroic actions. A definite read in this anthology
'Perfect' is an example of the rest of the stories; a combination of surreal and fun science fiction for fans of all types. Each story is filled to the brim with humour and unique. The reader is refreshed with each piece. Whether or not every story is for you there is something for everyone – and I guess that's what makes this anthology a great one!
The selection of stories is generous and distinctive, and while the art may be simplistic in some of the pieces, each story is charming and amusing in their own way. It is obvious that each person involved in this anthology has a passion for comic books and it certainly shines through in every inch of this anthology. I would definitely recommend this to anyone! Also have I mentioned it's for charity?
You can buy Tales From A Lonely Planet here!
 [easyreview title="The Arcade Verdict" cat1title="Stories" cat1detail="While some stories not for all, each story and refreshing!" cat1rating="8 out of 10″ cat2title="Writing" cat2detail="Refreshing and charming" cat2rating="9 out of 10″ cat3title="Artwork" cat3detail="While simplistic at times the artwork had charm and talent" cat3rating= "7 out of 10″ overall="true"]