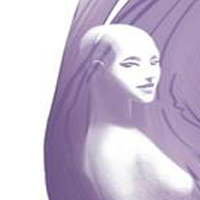 Review: Big Bastard #1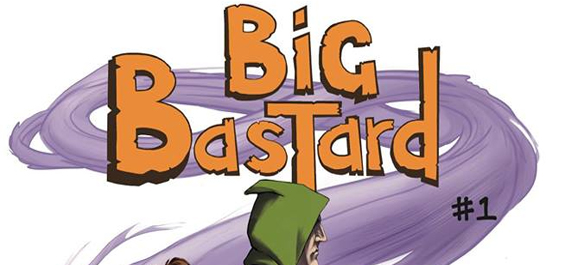 Big Bastard
Writer: Danny McColgan
Illustrator: Neil O'Driscoll
Publisher: Self-published
"What you have known as myth and legend was real, just not in the way you think. 
The year is 1899. The place, Ireland. A mystical and destructive shock wave has torn through the country. Strange and dangerous creatures have appeared in its wake. It's up to four unlikely human beings and one mysterious, big ol' bastard to try and save the world. Let's see if they can manage."
Irish society, history, culture and folklore seem to be massive inspiration for artists and writers working within the industry here in Ireland and even abroad. Historical moments, mythological heroes, iconic landmarks all feature in these works and while it seems like it's a never ending source of untapped creativity sometimes works and musings can be smothered, lost in an eager crowd, all anxious and shouting to be read, discussed and treasured.
Big Bastard is the work of Danny McColgan and Neil O'Driscoll and it certainly isn't about to let itself disappear into the pile, shouting the loudest… and for very good reason!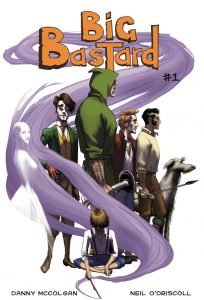 Issue #1 is hectic, chaotic, colourful, all over the place but above all else it is charming, encapsulating the cheek and charm that people the world over associate with being Irish. The year is 1899 and Ireland is about to be changed forever when a devastating shock wave rips through Munster, Leinster, Connaught and Ulster, unleashing creatures once thought to be nothing more than legends and leaving a path of destruction and death in it's path. Over the course of the first issue we are introduced to the key players, Donal Harkin, Holly Doherty, Conn Uí Neil and Tadgh de Brún, four strangers who have each been affected by supernatural energies released in the blast and then at the heart of it all we briefly meet the 'Big Bastard'. What role these people will play and the identity of Big Bastard are all a mystery but they find themselves charged with trying to save the world from certain doom.
Each character possesses unique abilities with even more distinct personalities and while I'm eager to learn about each of them in forthcoming issues, it's Donal and Holly who stand out the most in the first issue. Conn is from Galway and along with his wolf hound and a spear he has the ability of rapid healing, Tadgh is from Cork and after he survives his building blowing up finds a powerful shillelagh (that's a club) and survives an attack by a demon. Donal, our Dublin resident has all the air of sophistication, charm and wit one associates with Tony Stark/Robert Downey Junior and after a skirmish in a pub, we learn that he has the brains and fire-power to match. Lastly Holly an unfortunate victim of the shock wave, her body lies cold on the streets of Belfast while her ethereal spirit watches helplessly from above, she has the ability to possess other living creatures and is also the first to encounter the enigmatic Big Bastard.
O'Driscoll's style is the perfect compliment to McColgan's writing, it is colourful, full of life and doesn't leave a single detail out. In particular the events leading up to the shock wave with the overly eager youngster playing make believe in the woods and his encounter with a mysterious creature are perfect examples of how O'Driscolls use of colour enhances the storytelling, capturing the mood and even tempering it when things might even get a little too serious and luckily this skill continues throughout the comic. The artwork for the cover is more than worth a mention, it's simple but eye catching, again the use of colour is perfect, enough to be eye catching without drawing too much attention away from the title.
Big Bastard is at first, a little jarring, considering the setting for the comic, I expected a certain language to be conveyed but those expectations were quickly squashed only five pages in when the young boy calls out 'Who da man?' and I was thrown. It just seemed to completely derail all my preconceptions, having made some quick judgements based on the cover, the era and even the first location, I had assumed this would be a period piece with super heroes, Downton Abbey meets Gotham City in Ireland but McColgan doesn't play into that scenario, not even for a second. It's his story and his world and the people in it are his, as big and bold as his creation and as you dive deeper into the pages of Big Bastard you can't help but be swept up by it and suddenly those expectations I had don't matter at all, in fact they are all but forgotten!
The purpose of any first issue comic is to set the stage, introduce some if not all the main characters and perhaps most importantly sink its hooks into you! Big Bastard ticks all of these boxes and more; like any good story it has left me wanting more, not because I didn't get enough in the first comic but because I got just enough – I know enough about the characters to be able to pick my favourites (for the moment) and just enough about the story to be able to start devising my own theories and thoughts.
McColgan and O'Driscoll aren't happy to just sit on the sidelines of one of the biggest years in the Irish comic book industry and Big Bastard is the perfect way to make their introduction; big, bold and beautiful!
[easyreview cat1title="The Arcade Verdict" cat1detail="" cat1rating="9″]
Issue #1 is available to purchase in most comic book shops or online!
For updates and sneak previews be sure the check out the official Facebook page!
Editor-in-Chief, part-time super villain and hoarder of cats. If you can't find me writing, I'm probably in the kitchen!