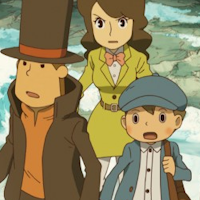 Everyone's favourite riddle solving, mystery busting, enigma unravelling, travelling Professor is returning to the 3DS this November in a brand new game! Professor Layton and the Azran Legacy will be released on a November 8th for 3DS exclusively (as both a retail / digital release), this game is the final in the prequel trilogy and the sixth game in the franchise.
"Embark on a brand new adventure with Professor Layton and his plucky assistants Luke and Emmy, and travel by airship to the frozen landscape of Froenborg in the first step to unravelling the mystery of the ancient Azran civilisation. The journey might start off somewhere icy but there's plenty to keep your brain supple, with a new collection of over 500 riddles, brain-tease rs and interactive puzzles to solve; these are made up of over 150 puzzles unlocked during the course of the game and over 365 available for download as Daily Puzzles every day from launch until the following year." [Source, Nintendo Press Release]
The Azran Legacy also marks the final time we'll see Layton take on the role of protagonist with CEO of Level 5, Akihiro Hino, stating back at the Japan Expo in July that Professor Layton & the Azran Legacy would be the "final and greatest adventure" of Professor Layton.
Editor-in-Chief, part-time super villain and hoarder of cats. If you can't find me writing, I'm probably in the kitchen!