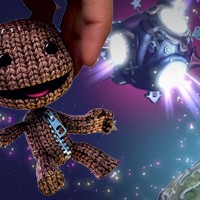 "Sackboy has found his true home and the Vita might just have found its true hero."
Title: LittleBigPlanet PS Vita
Genre: Platformer
Platform: Playstation Vita
Developer: Double Eleven, Tarsier Stusios, XDev Europe
Publisher: Sony Computer Entertainment
Release Date: September 19th 2012
Well, this is interesting. In a month when sales of the PS Vita sky-rocket in Japan thanks to the release of a new Hatsune Miku game, western gamers are treated to an equally important Vita title from a western developer. With sales of the Vita famously floundering worldwide, Sony certainly appear to have been hedging all their bets on their fall line-up. 
LittleBigPlanet, as a franchise, has been something of a miracle for Sony. Each of its three iterations (across two platforms) has brought with it as much entertainment as it has innovation and has been that rarest of things; a critical darling and a resounding commercial success. At time of writing, LittleBigPlanet PS Vita hasn't sold as many copies as Hatsune Miku: Project DIVA f, but it's fitting that so soon after the Vita finally starts finding its feet, Sony decide to unleash its first genuinely essential game. 
Let's just get this out on the table right now; LittleBigPlanet PS Vita is quite simply magnificent. Everything that fans have always loved about the game is there; Exquisite level design, intuitive physics, charming animations, expansive creation tools, Stephen Fry and of course the ever-adorable Sackboy. This is not the quick cash-in it could have been. Make no mistake, LBP PS Vita was built for its platform and oh boy does it feel at home there. 
Expanding on the near-perfect platforming from the last three games, the teams at Double Eleven, Tarsier Studios and XDev Europe have used all of the PS Vitas functionality to create a puzzle-platformer that looks, feels and plays like an instant classic. The addition of touch control (both front and rear) to alter the environments and browse through the pop-it menu feels so natural and intuitive you might question whether or not the entire concept was imagined with it in mind.
The creation segment of the game is as impressive as ever, perhaps even more so thanks to some of the best tutorials seen in the franchise so far. The tools don't feel watered down and if the levels already available from the online community are anything to go by they'll be more than enough to keep the game fresh and new for at least another year. 
That brings us to the last and probably most impressive part of the LBP PS Vita experience. LBP has never struggled to gather an online community and yet for some reason, the whole process of finding home-made levels, traversing and rating said levels, meeting new people, chatting and making friends feels much more accessible and worthwhile than it ever has before. As a hopeless misanthrope with a mild intolerance for people as a species, even I found myself beaming when myself and another player chatted in my pod, showing off costumes and inadvertently creating one that looked like Skrillex. It was heart warming and hilarious. 
The Vita has yet to convince a lot of people. With a hefty price tag and some questionable decisions on storage media, consumers have not been quick to embrace the device. Sony, for their part, have called in all the big guns to try fix that, the device is in the world less than a year and we've already had Uncharted, BlazBlue, Marvel vs Capcom, Resistance, Wipeout and more grace it with their presence. As impressive as those games may have been, they pale completely in comparison to LittleBigPlanet PS Vitas monolithic brilliance. Sackboy has found his true home and the Vita might just have found its true hero.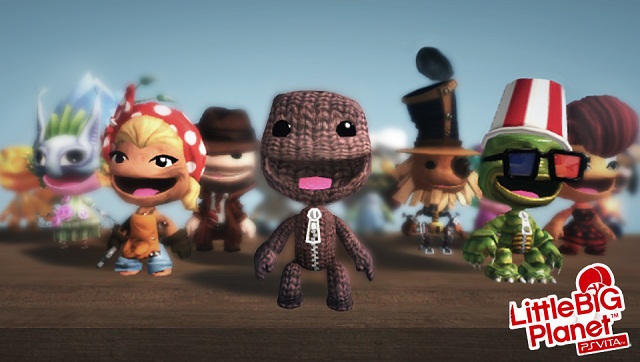 Good Points:
Everything. 
Bad Points:
Nothing. 
Rating: 10/10