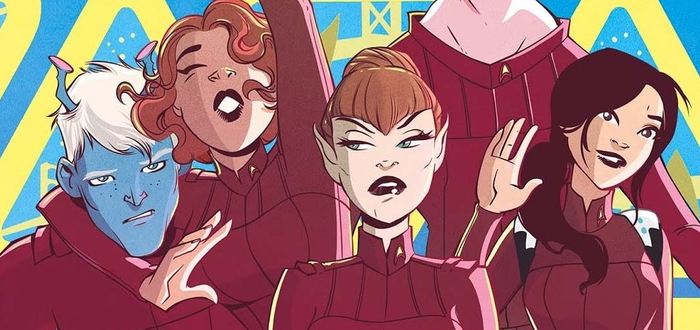 Star Trek Starfleet Academy Mini-Series Review
I'm the first to put my hands in the air and confess to being a sporadic Star Trek fan, in fact I can't even pretend that I'm what anyone would classify as "a real fan", just a straggler. I haven't watched The Original Series, I've seen a few sporadic episodes of The Next Generation and only one or two of the older movies. The only reason I got into Star Trek was because of the latest movies featuring Zachary Quinto and Chris Pine. Yes, yes, I know that makes me a pariah to a few die-hards, but we all get into franchises somehow right?
I've recently started watching The Next Generation from the start and, although I've been told that season 2 onwards is nothing short of masterful, so far I haven't really understood why so many people praise it. I enjoyed the first episode, don't get me wrong, but it's not grabbing me by the shackles and forcing me to watch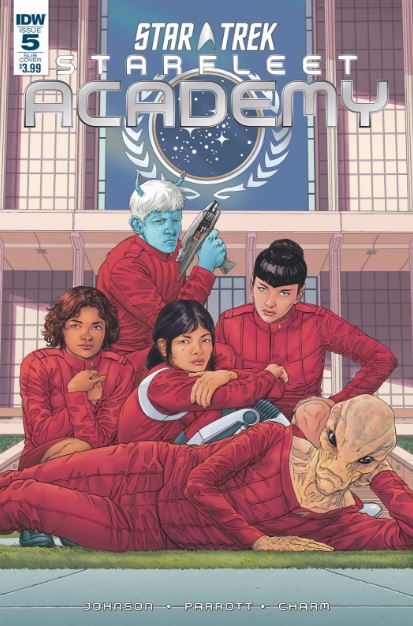 further the way other shows do. Not yet, anyway. Besides the TV show side of things, I've also been looking into the comics. Unfortunately, many of the titles I've seen stick too literally to the TV shows and the movies, and I wanted to read about some characters that I have no familiarity with. Enter Star Trek: Starfleet Academy.
This isn't the first time that Starfleet Academy has hit shelves, as Marvel delved into the world of Star Trek's famous school back in 1996 and released 19 issues about the Omega training squad. Although I haven't read this series, after reading the latest Starfleet Academy released by IDW, I very much want to.
We follow Kirk, Spock and Uhura as well as some familiar faces while they're still cadets-in-training, set in the period just before the opening of the 2009 film. The comic is split in two, so that we also follow a set of new young characters three years later in the 'current day' class of Starfleet cadets. The past and present collide when a mystery bridges the two timelines to reveal a century old secret. The series, written by Mike Johnson and Ryan Parrott, was designed as an entry point for new readers and I have to say they did this very well. In fact, as much as I like Uhura and co., they were the least compelling part of the series, and I found myself dying to see more of the younger cadets.
A cadet's log opens the story, narrated by a Vulcan named T'Laan. We soon find out that she wishes to leave Starfleet to resettle on New Vulcan, as she feels she belongs with her people. She's talked out of it by a professor of hers who convinces her to enter the academy's centennial competition, and says that afterwards she can decide whether she wants to stay or go. I like that she chooses to participate in the competition to gauge what life would be like in Starfleet so that she can make an informed decision. It's only logical.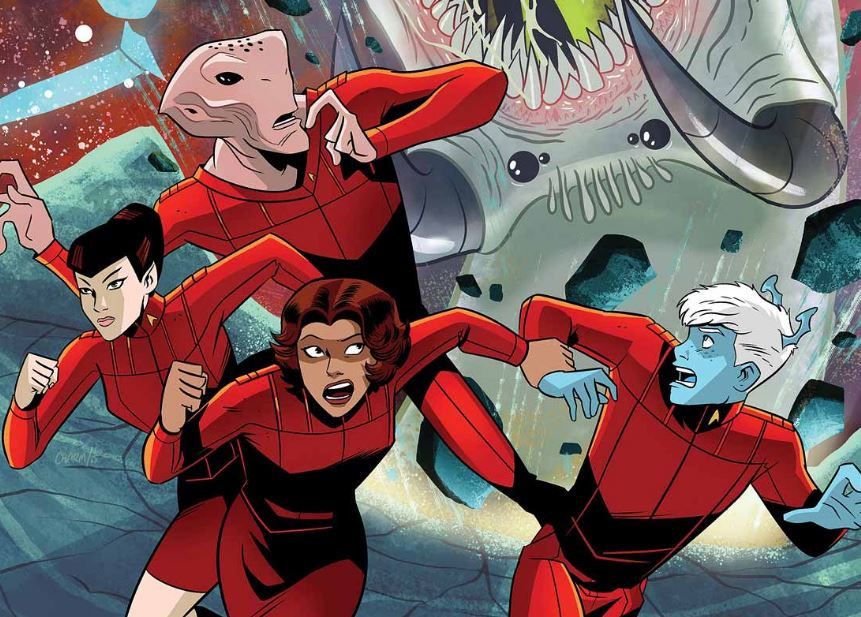 We're soon introduced to the rest of her team in the competition, which consists of an Andorian called Shev, a Latina human called Lucia Gonzales, a Monchezkin called Vel and another human with prosthetic legs called Grace Chen. I'm not kidding when I say they're my favourite set of characters from any title going right now; they're all separately so interesting and likeable and unique as characters, which is a nice change from many of the stories I've read recently where the characters all kind of blend together, and they're even better as a team.
The mini-series follows T'Laan's personal journey of self-discovery and Uhura's obsession with the truth, with both stories merging in a way that feels seamless. At the forefront of the story is the competition and the
budding friendships of the team, despite their vastly different personalities and origins. Their dynamic is especially interesting due to T'Laan's Vulcan background and her difficulty in social situations, which makes for some very funny reading at times.
The art, too, is incredibly expressive and the artist, Derek Charm, absolutely nails characters we're already familiar with like Admiral Marcus and Spock. It's also reminiscent of a classic cartoon-like comic style, which I really like, and there are plenty of background details that will keep the biggest Trekkie fans happy. Although I'm not that familiar with the many different races in the Star Trek world, there are plenty of different species to look out for in this comic, and I love that those details were included. It's easy for a mini-series to skimp on the small things, but this title goes above and beyond.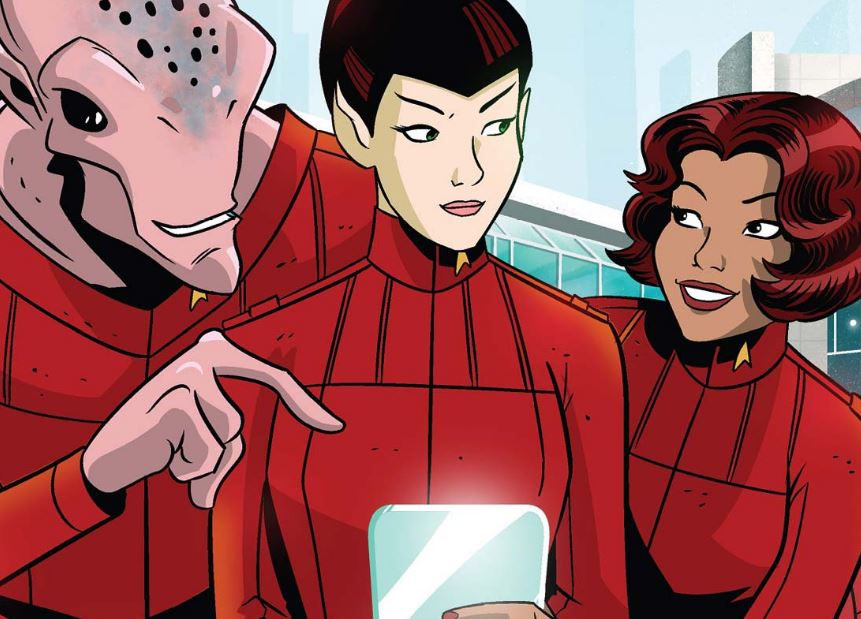 My favourite character is definitely Vel K'Bentayr, the loveable Monchezkin who reminds me (strangely) of Big Bird from Seasame Street. He's just a big goof, and I love his species as they're completely literal. They usually communicate through a hive mind and don't generally speak, so it's adorable to see him attempt to engage in regular conversation. He reminds me a lot of Drax the Destroyer in that aspect, though by the end he manages to vocalise abstract thoughts. He's a big cutie and you can't help but love him.
The cast of younger cadets makes this series. If there were other characters helming the title I'm not sure how much I would've enjoyed it, because I've absolutely bonded with the team and I want to see more of their stories. What with the bloated number of titles re-hashing the same old dull plots and characters, this team definitely deserves their own monthly series and I for one would mark it at the top of my pull list.
Have you read this mini-series? Do you plan to? Let me know in the comments!