Interview: Hideo Baba

Marking the 20th anniversary of the Tales Of series, Tales of Zestiria is set for release in Japan on 22 January.
With a brand new Fusionic Chain LMBS battle system and an action-packed storyline, Tales of Zestiria returns to the series' roots with a grand storyline and exciting characters.
I sat down with Hideo Baba, Tales of Zestiria's producer, at this year's MCM London Comic Con to find out more about the game 

Tell me about the story line of Tales of Zesteria. 
So in Tales of Zesteria there are two species, one is human and the other is Seraphim. We go through the co-existence of the humans and the Seraphim of Zesteria and the key theme of the story line is passion. So the story line will be around the core theme, passion, and the main character going on a big adventure in this very vast world.
The theme is generally centered around justice or faith. Why did you choose passion this time? 
So when people have purpose or goals, to try to achieve it one of the most important things is having a very important passion. For example if you want to be top in sport you need to have some passion to do it and I think the very hot emotion inside humans helps everybody to achieve something they want to do.
I wanted to describe how important passion is throughout the adventures of Sorey because he has lots of passion.
What is the battle system like?
The camera is always behind the character in Tales of Zestiria, like in Tales of Grace. However once you play Tales of Zestiria you'll notice how different it is, for example there is a new feature called armitisation; this enables the human and Seraph character to fuse into one different character. It's a new battle system.
One of the proposed characters, Lailah, uses paper as her weapon. Could you elaborate on that?
It's a bit difficult to explain but the paper doesn't necessarily mean like a notebook or posters. In Asian culture, like in shrines or temples, we have a kind of long card which includes some magical words to protect people from evil existence so she has something like this to attack the enemies.
The appearance of the card is completely different from a hard weapon in terms of purpose but you have the card to predict something in the future, it is like that.
What is your favourite Tales of Zesteria character and why?
It's difficult to pick just one character from Zesteria, but what I want the user to look forward to see is why the main character Soray decided to go on a big journey.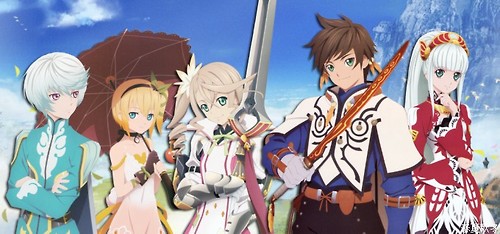 At the beginning of the story line, Soray doesn't wear the white jacket, so there is a big reason why he decided to wear the jacket and go on a journey. This is a very big element in the story line.
And [I like] the relationship between Sorey and Mikleo; they have grown up in the same village and they are very good childhood friends so I wanted these characters to have a very strong friendship.
This will mark the series' 20th anniversary. What kind of similarities will there be between Zesteria and the first ever Tales Of game?
We are trying to return to the traditional fantasy world which was described in the first title Tales of Fantasia, so at the time the graphic was 2D but now we have 3D graphics and we want to try to describe our fantasy world with this kind of 3D graphics, so you will be able to find big differences between the two.
Tales of Zestiria is due for release on PlayStation 3, January 22nd 2015 – a worldwide release date is pending.