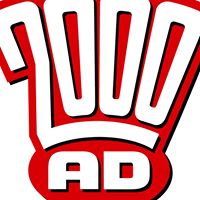 Review: 2000 AD – Prog 1879
A new Judge Dredd story means Tharg's mighty mascot gets on the cover again, and this time in a dull-coloured partial caricature. Provided by Phil Winslade, the cover art this week tells us one things; this will be a more action-oriented Dredd fable than perhaps the previous story. Combining the bold pose of the Judge with the dashing purple, green and red in the background reminds me strongly of the hero trading cards of yesteryear that Marvel used to package with their 'Essential' line of comics and the more old-school look of the helmet and uniform only compounds that nostalgia.
John Wagner continues being the show-runner for Judge Dredd in this first part of Shooters Night, a story whose opening panel contains the line 'There are casualties Dredd, Med teams despatched.' That's just a signed, sealed and delivered guarantee this is going to be a fun-filled read.
Delving directly into the night-life of Mega-City One, Shooters Night keeps it light-hearted and delicate with a number of bodies in a short space of time and a nice-guy-gone-bad-all-of-a-sudden narrative jumping point. Dredd veteran John McCrea creates an altogether lively atmosphere with his very clearly defined use of lighting and overlapping panelling. I really dig that after drawing fans in with a more subversive Judge story they've decided to show that usually, Tharg's long-runner is dealing with violent and unruly criminals. Good times ahead.
At some point Outlier should be a film, animated or otherwise. It would at LEAST be an awesome indie action game. Realistically, the thrill will probably not be any of those, but it deserves to be. Not only has T. C. Eglington's script gotten deeper with more and more character progression, but Karl Richardson's art continues to compliment the plot perfectly with functionality and succinct coloring for the contrasting settings. The absolute earnestness found in both the protagonists and antagonists is providing a solid ambiguity that will, hopefully, pay off in spades when this space-ride comes to a head in the coming weeks. Going to be sad to see this one go for sure.
I am continually praising Simon Davis' art on the current Sláine run, but every week it hits me just how beautiful and distinctive it is amongst the more tradition lines and colors of the surrounding stories. Ongoing reliance on two page spreads with slightly sporadic feeling paneling just oozes character and goes to create a fantastical world that will not let up in being fascinating and terrifying. While this issue contains some trouble for our hero, a lack of exposition is a little under-whelming. A Simple Killing is plodding along at it's own pace, which I have zero qualms with, but while the narrative is taking a few issues to create a bigger over-arching plot, there could be more dialogue and interaction amongst characters in order to keep us informed and emotionally tuned in.
Despite my disappointment with how long Sinister Dexter took to get into the action the world's best gun-sharks sorely needed, let me tell you this part and last week's part delivered in spades. Big guns and big shoot-outs. Good, wholesome fun. Gun Shy finds it's end some six parts in and it's a high note to end
on while out adventurers continue their bigger Generican Dream saga. While I can't say I totally enjoyed this by the numbers chapter in the boys sordid story, I look forward to their return. Smudge and Dan Abnett can make grindhouse cinema a more than functional comic format, and it works. It absolutely works.
Marking a double-whammy ending, my favorite of the new thrills introduced since the jump-on prog, Jaegir, meets an emotionally stirring final part to say the least. Pacing this storyline in such a manner as to end on a dialogue heavy note, considering the origins and setting, is a seriously impressive feat. That said, I shouldn't be surprised, Gordon Rennie's script has matched the action punch-for-punch with commentary and narration from the damaged heroine Jaegir. Very little actually happened on the page over the course of this début run, but the consistent descriptions and verbal refrains gave us a deep-seeded sense of a wider narrative and a simply stirring pace that concludes so nicely that it almost brings a tear to the eye. Jaegir returns in June, and I cannot wait.
2000 AD – Prog 1879 is available now.
[easyreview cat1title="The Arcade Verdict" cat1detail="Great issue, art is on top form at the moment, even if some scripting is a touch less than ideal" cat1rating="9″]