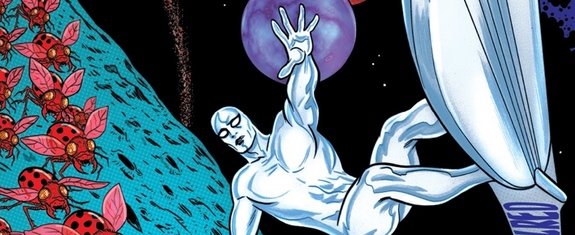 Silver Surfer #1 Review
Dan Slott – Writer. Michael Allred – Art. Laura Allred – Color Artist.
Cover by Michael & Laura Allred with variant covers from Francesco Francaivilla, Chris Samnee and Matthew Wilson.
 Published by Marvel Comics.
Continuing the Marvel Now! Initiative with a new #1 this week, The Silver Surfer is back in his own comic series. Silver Surfer has been getting talked up for some time before its release this week. So much so that given all the "sneak peeks" and "previews" it almost felt like we'd seen all this book had to offer before it got off the ground. I'm delighted to say that this isn't the case. Dan Slott and Michael Allred have created a great book that's both a familiar and refreshing showcase for their talents. Slott's approach to Norrin Radd is definitely a lot lighter than we're used to seeing the Surfer these past few years. Don't get me wrong he's still the same character we've all come to love but this issue just sees the former herald of Galactus a lot … fresher.
Silver Surfer #1 also gives us some fantastic sci-fi that you just can't help but enjoy such as the Brundlebus Nebula. Honestly by the first 5 pages I was grinning ear to ear on the tram like a fool. There's scores of creepy looking alien weirdoes scattered throughout the books some familiar and some all new. With high level sci-fi concepts left and right the Surfers trip to the impossibly surreal Impericon is definitely a highlight if the issue. This place is bonkers. It's like Willie Wonka's Chocolate Factory but on a cosmic scale. It's fascinating, psychedelic and just downright weird all at once.
Another highlight of the book, and I'll admit I had no interest beforehand, is the addition of the new character Dawn Greenwood from Anchor Bay of the planet Earth. Right away dawn is an interesting character you can tell Slott's going to have a lot of fun writing. Just a small town girl, born and raised in Anchor Bay Dawn is the counter opposite to her sister Eve. While Eve is constantly traveling the world and boldly going where no Dawn has gone before, Dawn has never felt the need to leave her comfort zone in Anchor Bay, running her father's B&B. An excellent parallel is our tour of the b&b while we see the Surfer tour The Impericon. Naturally, Dawn gets "ZZWWRRZ'D" into space to serve as the Surfer's motivation to battle the big bad teased in the issue.
I have to give special mention to the artwork in this book too. Honestly in the build up to its release the artwork from Michael and Laura Allred was definitely a draw for me. Michael Allred's bold and dynamic line work is reminiscent of the classic and powerful works of Jack "The King" Kirby. Little touches and details throughout the book all work to tie together and really give a fantastic experience. Dawn wears spots, Eve wears stripes. The topsy turvy panel designs and energetic poses of the surfer contrast brilliantly to the scenery of Anchor Bay, and The Impericon? I'm not even sure I can do it justice with words. That double page splash is worth the price of this issue alone. It's … I could spend hours looking at it and still marvel at it. Laura Allred's color work is an integral part of this. I mentioned earlier the psychedelic feel to the book. This is where the Surfer shines. (pardon the pun)
Silver Surfer#1 is a refreshingly new approach to Marvel's cosmic sky-rider. Dan Slott , Michael & Laura Allred succeed in delivering an all-new, far-out, and above all else, fun first issue.