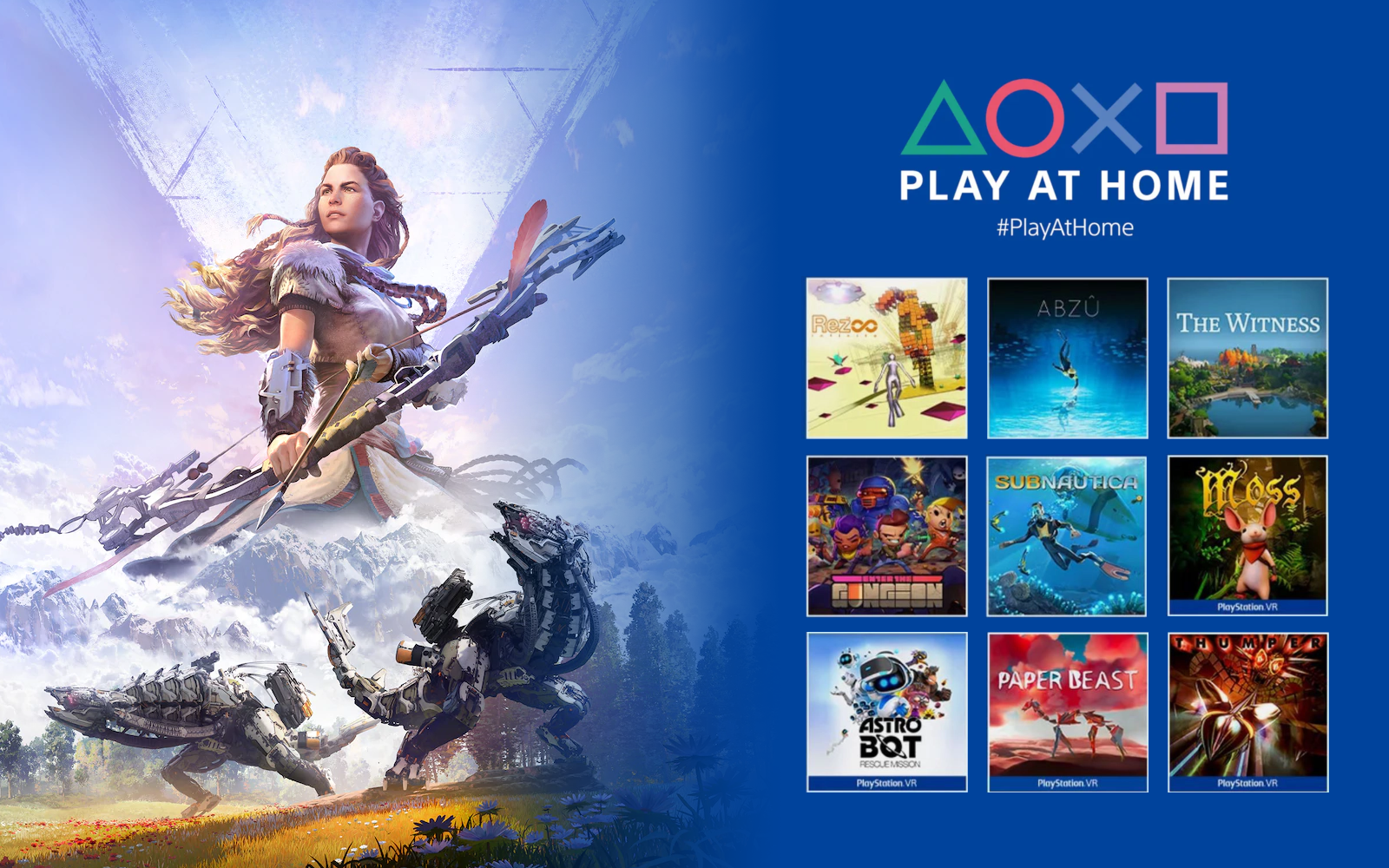 Play At Home Initiative Adding 10 Titles Between March And May
PlayStation owners can avail of a range of free titles thanks to Sony's Play At Home initiative. The company announced 10 additional would be available to claim and download for free, between March and May. With a mix of top indie and VR titles, Horizon Zero Dawn is also being added to the lineup in April. Here's a list of the titles and the dates they will be available for. 
PS4 Titles
Abzû – PS4
Enter the Gungeon – PS4
Rez Infinite – PS4 or PS VR
Subnautica – PS4
The Witness – PS4
PlayStation VR Titles
Astro Bot Rescue Mission – PS VR
Moss – PS VR
Paper Beast – PS VR
Thumper – PS VR
The above 9 titles, will be available from March 25th 8pm PT / March 26th 3am GMT / 4am CET to April 22nd 8pm PT / April 23rd 4am BST/ 5am CEST.
Horizon Zero Dawn: Complete Edition
The fantastic open world game from Guerrilla Games, Horizon Zero Dawn, will be available for free download. It is the Complete Edition, which includes the expansion, The Frozen Wilds.
Horizon Zero Dawn: Complete Edition can be added to you library between April 19th 8pm PT / April 20th 4am BST / 5am CEST and May 14th 8pm Pacific Time / May 15th 4am BST / 5am CEST.
Ratchet & Clank (2016) Still Available
Don't forget, you can still grab a copy of Ratchet & Clank until March 31st.
To claim these games, head over to the Play At Home page on the PS Store or via your PS App. Just add them to your library between the available dates and they are yours to keep. So what games will you be checking out?