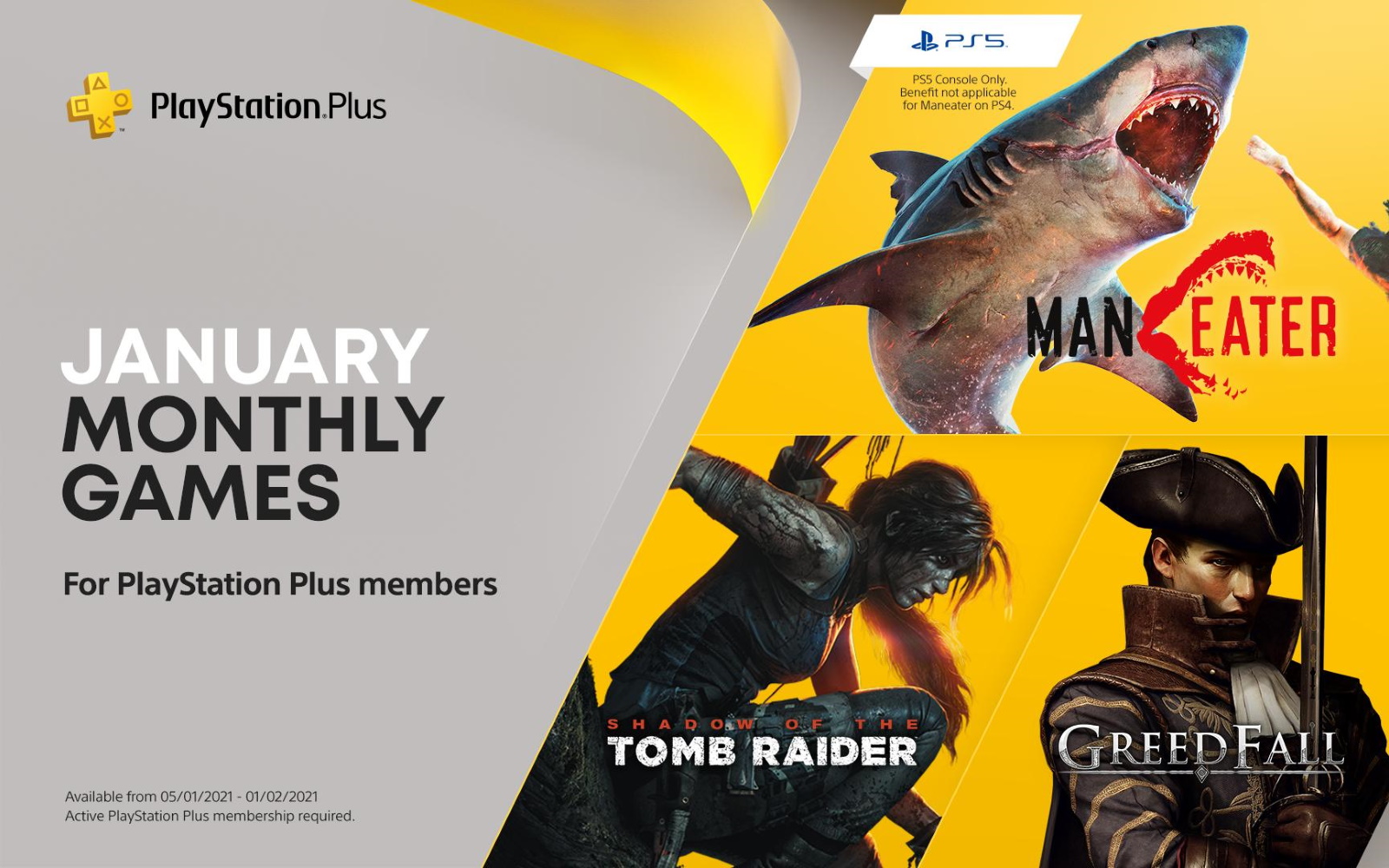 PlayStation Plus has had some mixed entries in 2020, but the first set of games for 2021 seem like solid additions. Here is what you can pick up from Tuesday, January 5th 2021.
PlayStation 5 Game
Maneater
Maneater sees you take the role of a shark, as you go from shark pup to giant apex predator. This open-world RPG has you taking on both human and animal enemies, as you learn new attacks, upgrade your abilities and become the true peak of evolution. 
Only the PS5 version of Maneater will be available to add to your collection. If you currently don't own a PS5, you can add the game to your library, by using the PS App on mobile or the web store. Maneater is not available in Saudi Arabia. No word yet if a replacement will be offered.
PlayStation 4 Games
There are two titles available for PlayStation 4 Plus subscribers. Here is what's coming January 5th.
Shadow of the Tomb Raider
The third chapter to the latest incarnation of Tomb Raider, has Lara Croft travel to South America, in order to save the world from a possible apocalypse. Explore a dense jungle environment, uncover hidden tombs and solve puzzles, while taking on an outnumbering enemy.
GreedFall
This action RPG has you explore uncharted new lands, which are filled with magic, riches, lost secrets and fantastic creatures. Learn and choose your abilities, spells and skills, as you can complete objectives with combat, diplomacy, deception or stealth. Create alliances or betray your companions in order to achieve your goal.
Greedfall is not available in the Middle East (replaced with Assetto Corsa), Japan, or South Korea (replaced with Mistover).
How To Claim PS Plus Games
December's games can still be picked up. Just head to your console interface and enter the PS Plus area to claim. If you don't currently have a PlayStation 5, you can still claim the PS5 PS Plus games. Just head over to the PS Plus section on the mobile PS App or online web store and add the game to your library.
This can be used on Bugsnax until January 4th 2021 and Maneater from January 5th to February 1st 2021.