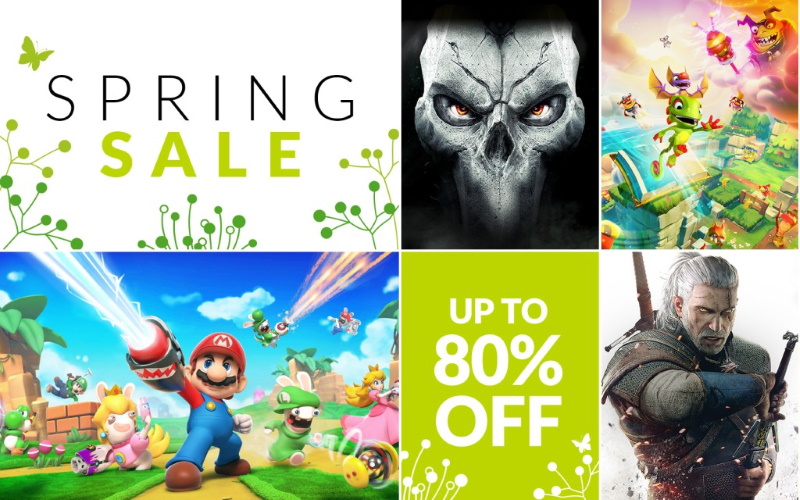 There Is A Sale On Nintendo's eShop
With it being Springtime, most gaming platforms begin to run their annual 'Spring sale' on digital games. Nintendo, being no different, has offered some of the most generous deals this Spring with several titles being slashed in price on their eShop platform for Nintendo Switch. In this piece, I will be listing some great deals and games that you could potentially bag yourself for a cut price to help you get through quarantine.
Mario + Rabbits Kingdom Battle 75% Off
I'll begin with some major titles on the platform who have had price cuts. Mario + Rabbids Kingdom Battle has been labelled 75% off dropping all the way to only €9.99 from its usual €39.99, and with this title being one of the best-selling Switch games since the consoles release, 75% off seems almost too good to be true.
Crash & Spyro Triologies 50% Off
Elsewhere, Spyro and Crash Bandicoot have had their remastered Trilogies halved in price with both down to €19.99 to purchase. Both games, especially the N'Sane Trilogy are quality titles and some of the best games available on the Switch, with not much expense lost when it comes to playing these titles on the Switch in comparison to a PS4 or Xbox One, and with Spyro Reignited Trilogy only releasing to Switch a few months previous, now seems to be a better time than ever to give these games a try if you have been waiting.
Touted Revived Classics Up to 75% Off
With Sonic making his comeback in recent years with the critical acclaim of Sonic Mania, nobody has an excuse not to give this perfect masterpiece a try with it selling for €12.76 on the eShop. As well as that, Rayman has made a comeback in recent years and with one of the best Rayman games to date, Rayman Legends Definitive Edition being 75% off selling for €9.99 from €39.99, now is a better time than ever to indulge in the nostalgia and play the prime versions of these sort of titles.
Big Third-Party Hitters Up to 67% Off
Other acclaimed third-party titles such as L.A Noire, The Witcher 3 – Complete Edition and HellBlade Senua's Sacrifice are selling for well below their original price. L.A Noire is available to pick up for €24.99, whilst The Witcher 3 and HellBlade have sunk to €41.99 and €19.79 respectably.
Assassins Creed titles have also recently been releasing onto the platform, and both The Rebel Collection, which includes both Black Flag and Rogue as a duo and also the individual title of Assassins Creed III Remastered are both on sale for €34.99 and €14.79 each. If have not experienced these titles on the platforms they originally released on and wanted to give them a try on the Switch, now is the time.
Classics & Classical Inspired Titles Up to 90% Off
Some titles have plummeted in price, such as the two original Sonic games for the Mega Drive are both on sale for €4.68. If you are thirsting more for some Genesis titles then the Sega Mega Drive Classics compilation is a great title for you, on sale for €20.09.
More similarly styled titles such as Castlevania Anniversary Collection (€9.99), Shovel Knight Treasure Trove (€27.99), OwlBoy (€13.79) and then three dirt cheap quality titles such as Downwell (€1.53) and Crypt of the Necrodancer (€3.99) are selling for prices that you quite literally have nothing to lose on giving them a try for. As well as those insane prices, Runner3 has dropped from €17.99 all the way down to an incredible €1.79. These are titles that are endlessly replayable and for the price, they almost seem too good to pass up.
Kart Racers Up to 40% Off
Kart racers that have received plenty of positive reactions such as Crash Team Racing Nitro Fueled, and Team Sonic Racing are with both selling for a modest €23.99 and €27.99. If you have been itching to get involved in some competitive racing titles other than Mario Kart, then these games are sure to give you that competitive edge you are chasing.
Fighting Games Up to 75% Off
The most popular fighting game Mortal Kombat 11 is currently 60% off on the eShop retailing for an incredible €27.99. As well as this, for Dragon Ball Z fans, Dragon Ball FighterZ is currently available for €14.99. Two brilliant options contrasting in style and gameplay for anybody who enjoys single player or online fighting games.
South Park Titles Up to 75% Off
The two entries to the South Park RPG-style games, South Park: The Stick of Truth and South Park: The Fractured But Whole have both sunk to €14.79 and €14.99, meaning you could play through both titles for just under €30 right now. Both are funny, lighthearted and witty games with a lot to do and pay attention to, and most importantly, they are fun and worth the price.
Other Titles That Have Fallen in Price
As I wind down, here are a final list of games that have fallen in price with the Spring Sale if nothing previously listed has somehow not tickled your fancy. Yooka-Laylee: The Impossible Lair – €20.09, The Touryst – €13.99, Don't Starve – €5.99, My Friend Pedro – €13.99, Terraria – €20.09 and Super Meatboy for €7.79. These are just some further quality titles that have sunk in price if you wish to give them a try.
Spring-Sale End Date and Details
Many titles on sale for the Spring sale on the Switch's eShop have their offers expire on the 19th of April 2020, however, there are a few titles that may expire during the next ten days or so, just before the mark of the 19th , so if you are looking to cop one of these incredible deals, I suggest you hope on it whilst you can!
Article by Nathan Brennan