All 42 Games Announced For SEGA Mega Drive Mini
With the recent trend of retro console releases from Nintendo and PlayStation, it wouldn't be right without having retro re-release of a SEGA console. SEGA officially announced they would be releasing the Mega Drive Mini back in 2018 and it will be coming to shelves this September. There is a diverse range of classic titles like Sonic The Hedgehog, Streets of Rage 2 & Phantasy Star IV: The End of the Millennium. Porting of these titles will be handled by the highly capable port house M2.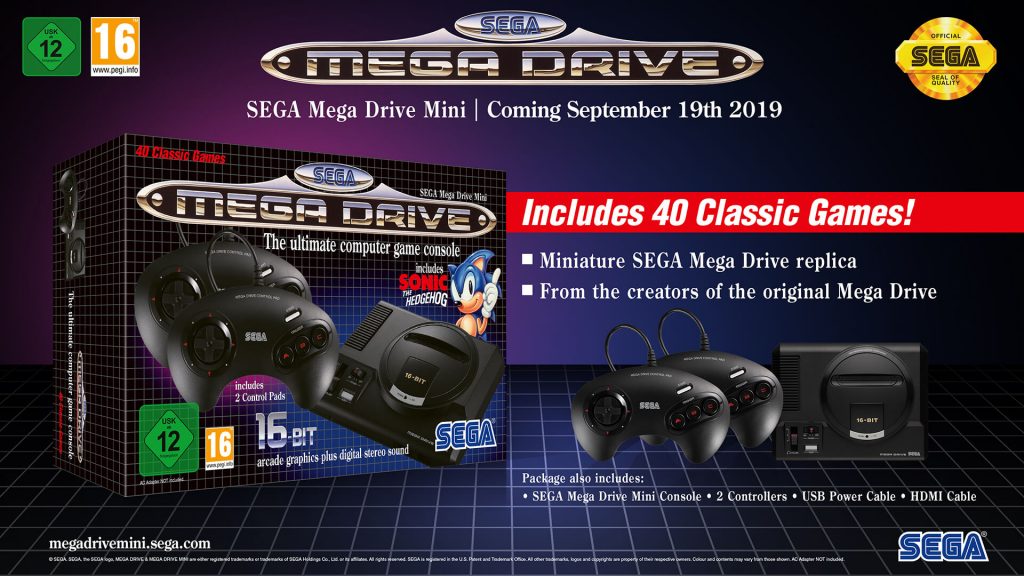 SEGA's Mega Drive Mini will come with two controllers, a power cable and HDMI cable.
The full list will include:
Sonic The Hedgehog
Ecco the Dolphin
Castlevania: Bloodlines
Space Harrier 2
Shining Force
Dr. Robotnik's Mean Bean Machine
ToeJam & Earl
Comix Zone
Altered Beast
Gunstar Heroes
Earthworm Jim
Sonic The Hedgehog 2
Castle of Illusion Starring Mickey Mouse
World of Illusion Starring Mickey Mouse and Donald Duck
Contra: Hard Corps
Thunder Force III
Super Fantasy Zone
Shinobi III: Return of the Ninja Master
Streets of Rage 2
Landstalker
Mega Man®: The Wily Wars
Street Fighter II®: Special Champion Edition
Ghouls 'n Ghosts® 
Alex Kidd in the Enchanted Castle
Beyond Oasis
Golden Axe
Phantasy Star IV: The End of the Millennium
Sonic The Hedgehog Spinball
Vectorman
Wonder Boy in Monster World 
Tetris®
Darius
Road Rash II
Strider®
Virtua Fighter 2
Alisia Dragoon
Kid Chameleon
Monster World IV
Eternal Champions
Columns
Dynamite Headdy
Light Crusader 
Releasing on September 19th, the recommended retail price comes in at €79.99. Will you be picking this classic console?