Bohemian Rhapsody Review
The Arcade
Rating:

8.7

/ 10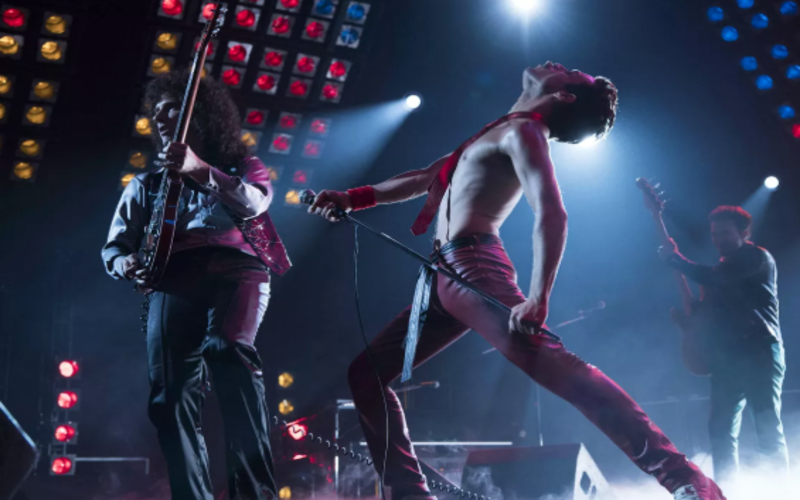 8.7
Bohemian Rhapsody Review
There are plenty of bands and performers that have gotten the biopic treatment over the years, but the story of Queen and their memorising frontman Freddie Mercury has only now come to cinemas thanks to the film Bohemian Rhapsody. With plenty of stories available from the band's twenty or so years together, any film would struggle to tell a complete story. Mixed with the flamboyant lifestyle, wild parties and troubled personal life of Mercury and band conflicts, filmmakers were certainly up against it from the get go. Thankfully, the final product has a lot of good, with some obvious rags-to-riches story beats and a whole lot of toe-tappingly great music!
The making of this film had its own eventful backstory, as Sacha Baron Cohen was originally cast to play Mercury back in 2010. Due to some creative differences with producers and remaining Queen members, he left the project. This lead Rami Malek to take the reins of the charismatic singer and he absolutely nails it. Malek has both flair and passion while also conveying the somewhat lonely and fractured side of Mercury. 
Get The Band Together
The film starts at the beginning of the band's story, where band members Brian May and Roger Taylor are in need of a new singer for their band Smile. Enter Freddie Mercury. As the group play some college parties, they are joined by bassist John Deacon. Pace on the story hits up a few gears and speeds through the initial run of albums, landing on the signing of a record deal and the making of their now infamous song, Bohemian Rhapsody.
Bohemian Rhapsody continues this fast paced nature throughout the film with glimpses of the band's tours, Mercury's relationship with Mary Austin (played by Lucy Boynton), the creation of new music and eventual inner conflict Mercury goes through while dealing with his sexuality and health issues. Although never delving too deep into the darker times of the band members, it does sprinkle in some of Mercury's loneliness despite his over-the-top public persona. It is very emotional and I would have liked to have seen more of this story. Mercury faced obvious hardship in the late 70's/80's having to hide his private life, sexuality and lifestyle from the ever-present media presence. Just as the story begins to delve deeper into the inner workings, it swings back to a bombastic musical set piece.
As you can imagine, the music in this film is just superb. Based on some of the band's biggest hits, several iconic concerts and music videos, you feel like you are at these events. The set production and cinematography is top notch, culminating in the epic Live Aid concert set piece, which is fantastic. Freddie Mercury is a hard man to replicate vocally, so much of the singing in the film is made up of mostly recordings, blended with star Malek and sound-alike Marc Martel (who is the singer for the official Queen tribute act. A talent in his own right). This mix of acting, singing and performance never seems jarring for the most part, while each actor playing instruments look competent throughout as well.
A Fine Tribute Act
Although directing credit goes to Bryan Singer (he was fired from the project after numerous sexual assault accusations), overall credit has to be given to Dexter Fletcher as he stepped in to finish the film. It's not perfect, but Bohemian Rhapsody is thoroughly entertaining. The film takes liberties with the timeline, changing career set pieces and Mercury's relationships, with the likes of Jim Hutton only barely touched upon. His health issues are also fast-tracked to a degree, to possibly keep the stakes high and give weight to the stunning ending act. The main cast do a great job. Gwilym Lee's portrayal as May is uncanny. Rami Malek is a stand-out among them for sure, though. He channels the main man himself from start to finish. Costume, set design and the look of the film are brilliant and the music speaks for itself. Bohemian Rhapsody covers a lot of ground, but should please both fans of Queen and newcomers alike.
Bohemian Rhapsody is in cinemas nationwide now.
A Greatest Hits Compilation
8.7
Although not delving into any one particular time frame, the film acts as a best of in the packed backstory that is Queen. Not directly a Freddie Mercury film, Rami Malek is stand out, while the story serves its purpose for what it is.