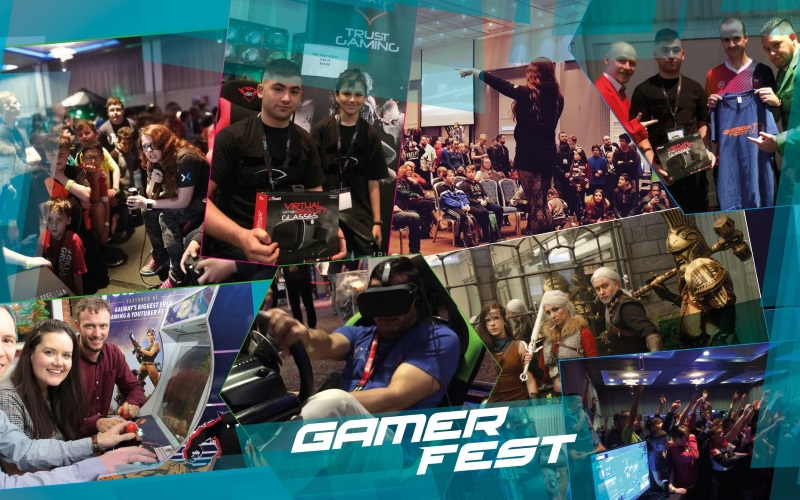 GamerFest Returns To Galway This October Bank Holiday
Galway is gearing up for its largest ever gaming festival, with 2,000 gamers set to descend on GamerFest, which returns to the Galmont Hotel & Spa this October 28th & 29th.
The festival promises to be a major celebration of hugely popular games like FIFA 19 and Fortnite, while also showcasing brand new gaming titles and virtual reality technology.
Newly released games will take centre stage at the festival including Marvel's Spider-Man and Starlink Battle for Atlas. Starlink, in particular, promises to attract significant attention during the two-day event, as gamers experience the innovative modular toys that allow players build unique starships in this epic open world adventure.
Bringing GamerFest to Galway for the second consecutive year, founder Stuart Dempsey is looking forward to building on the success of 2017:
"We can't wait for the event to kick off at this stage. With such a packed line-up of gaming action and special guests we're really looking forward to seeing gamers from all over Ireland descend on Galway."
Special Guests
The GamerFest Live Stage will host a number of events, which will be buzzing with special guests including John Romero of Romero Games, Antitinkerbell and LittleMarMan. Returning to host the Live Stage will be AllCast Irish Gamers duo of Petso and Minyon. Commenting on the upcoming October festival, Petso can sense the anticipation building:
"Last year we had an unbelievably good time at GamerFest Galway, so we can't wait to get back for this year's festival, which is shaping up bigger and better than ever. Brand new games, virtual reality, cosplay and loads of esports!"
Real Meets Virtual
Virtual reality gaming will be managed by ongoing GamerFest partners Spraoi VR, who are returning for their third successive GamerFest event. Spraoi will be delivering VR experiences to visitors throughout the course of the event, providing the very latest games and VR technology.
Other Sections
An Over 18s Area will also feature at GamerFest, featuring titles such as the newly released Assassin's Creed Odyssey and hugely popular Call of Duty WWII.
The Indie Dev Zone will be returning for GamerFest Galway, with some of Ireland's most exciting developers showcasing their very latest games, including Electronic Motion Games, Erie Studios and Cerebros Games.
eSports tournaments will also take place over the course of the two days, where visitors can watch and take part in a range of competitions including the Fortnite Challenge, the FIFA 19 Tournament and the Tekken 7 Showdown. The FIFA 19 tournament in particular promises to be an epic affair, with leading FIFA players LAD, Discreet and KEV all expected to feature in the knockout latter stages.
Tickets
The Galmont Hotel & Spa (formerly Radisson Blu) remains the chosen venue for the festival, ensuring ease of access to visitors due to its ample parking and proximity to Galway bus & rail stations. Tickets are on sale now from just €14.95 at www.GamerFest.ie.