Madden 19 Review
The Arcade
Rating:

9.3

/ 10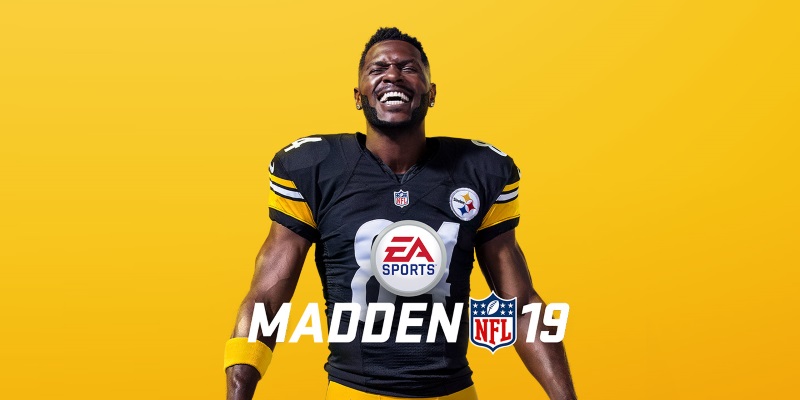 9.3
Madden 19 Review
It's been a while since I've spent some time with the Madden series. So what new things will I find out for this Madden 19 review?
Looks & Sounds Like Football
Let's talk about looks first. This is the second year Madden uses the Frostbite engine and it looks, for the most part, fantastic. Players are well animated, helmets shine in the sun, weather effects are solid, tackling and blocking have real weight to them and overall the broadcast presentation to the game is slick. There are 3D graphics, logo transitions, team lineups and intro/outro sequences. Score a touchdown or sack an opposition quarterback, you can perform celebration moves.
Players react with energetic taunts if they pull of a block or interception, while coaches react accordingly to your plays. There is some overlap in animations, especially with sideline NPCs, while there are some clipping or physics issues on some tackles. Stadiums are fully modeled with a full 3D crowd. This is one of the weaker points in the game, as the crowd sometimes feels generic and flat in response compared to real life counterparts.
Sound is dynamic in tone with insightful and somewhat off the cuff from commentators Brandon Gaudin and Charles Davis. They will discuss previous games, stats and matchups while having some banter in between. Tackling sounds heavy and bone breaking at times, while player calls and crowds do their part . The soundtrack is a mix of Hip Hop and rap with a good variety of commercial artists such as T.I., Cardi B & Migos. More songs will be rolled out along the season with the aid of updates. All of this immerses the player into the game looking, feeling and sounding like you are watching an NFL match on TV.
Gameplay
This is the meat to the meal. Any fans of American Football, knows it's highly tactical with both offensive and defensive games key to keeping out the opposition and you taking the win. The UI hasn't changed much from my last time playing of Madden. It's simple , clean and concise. The best suggested play is given to you, while you can easily navigate the playbook to choose what you want to try. Plays are in-depth and it will take your knowledge of the game and judging of the opposition lineup, to really take advantage in higher difficulties. Your reading of the game allows you to control the game and mix this with the new controls and mechanics introduced to player movement, expands the possibilities of progressing up the field.
Real Player Motion introduces more realistic movement and physical presence in-game. You can now dodge, fake and palm off the opposition in a more realistic manner. Based on the current player and their stats, you can shrug off a tackle or pirouette around incoming players and continue on a run, allowing you to gain those precious yards or reach the end zone for a touchdown. This adds more of an unknown quality to matches, as making a tackle or avoiding a hit could lead to a game changing moment.
Movement on the line of scrimmage deepens, as you have even more control of your player to squeeze through does tiny gaps between defence lines. The Real Player Motion adds even more realism to the game, as fumbles can now happen in an even more realistic manner, catches of the ball are down to timing, as well as position and tackling has greater impact.
Passing the football is also a mechanic in its own right. With a mix of button combinations and timing, you will easily see yourself making 30-40 passes, dodging an incoming tackle and running into an end zone.  But if you don't pay attention to your surroundings, the hard work can easily be turned over
Modes
Franchise
There are three main modes to play in Madden 19. Franchise, Madden Ultimate Team and Longshot. Franchise sees you take on the role of coach. You can control the whole process of running an NFL team, as you aim to get to the play-offs or even going on and winning the Super Bowl. Contract negotiations, scouting, draft picks and of course running plays during matches will all be part of your tasks to deal with. You earn experience to upgrade players or to add stat boosts to your coaching abilities. It's the standard game mode, where you play through a season of your team fixtures, in hope of going all the way. You can go in-dept with all the features or simulate certain features to suit your needs.
Longshot
Longshot is the story mode of the game. It follows two main characters from last years Madden as one gets a shot in the NFL while the other struggles to get a call-up to the big leagues. Longshot is similar in style to FIFA's Journey mode. Runtime is about 4-5 hours, with gameplay broken up into some story based cut scenes and some minimal actual gameplay, where you do training drills and recreate specific plays. It has a flimsy story, that feels like a young adult TV show and the story doesn't really go anywhere. Production is high in the mode, but the pay-off for the time you put into it, is a letdown.
Madden Ultimate Team
Finally there is the Madden Ultimate Team. This is a mode where you build your team based on card and trades. Your roster will have to built from the ground up, as you unlock better and higher rated players. You progress by playing matches online against other players, during solo challenges, raising your MUT level, earning in-game coins, all in-order to earn or buy new packs of cards or even unlocking classic players to add to your team. It's a fun and you can speed hours crafting the best team possible. Again, this mode is akin to FIFA's Ultimate Team mode.
Final Thoughts
I thoroughly enjoyed my time with Madden 19. The more time spent in-game learning the new mechanics, the more I enjoyed the game. It may be a slight learning curve for newcomers, there are detailed tutorials and training opportunities in the game. You will soon understand techniques and how to read the game on lower difficulty levels. The challenge then increases , as you hit the higher level difficulties. That will be for the masters of the game.
If you enjoy the NFL, you will love this. If you want something new in the sports genre, I recommend you play Madden 19, especially with some buddies. Presentation is top-notch, gameplay is fun and overall package can provide hours of gameplay, if you are willing to put the time in. It may even fill the gap before the NFL season kicks-off in September (GO VIKS!).
Madden 19 is available on PS4, Xbox One and PC right now.