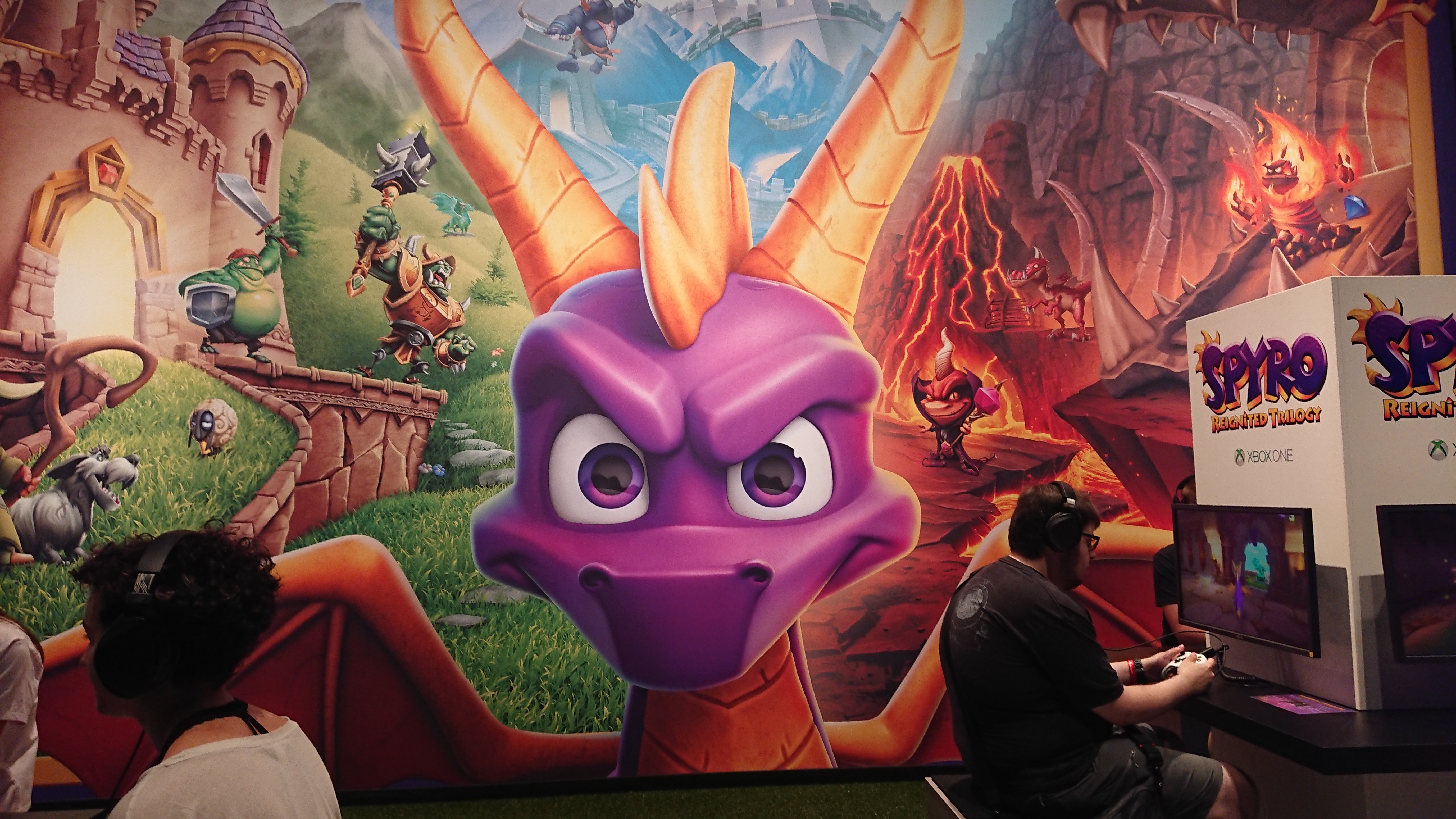 Spyro Impressions From Gamescom 2018
Our old friend Spyro made an appearance at Gamescom this year. Here are my Spyro impressions of the demo I got to play!
Firstly, you instantly notice the visual update. Spyro looks downright bright, energetic and colourful. This is thanks to the great work of Toys For Bob.
Spyro Looks Good
Gameplay is solid with all of Spyro's moves given the modern update. Wherein camera controls are mapped to the right analogue stick. This allows for the player to easily control Spyro in whatever way you like. His attacks and actions are mapped to the face buttons. The game is very pick up and play with out much tutorial. Pointers are given throughout the demo for anyone new to the game.
Animation is fluid, as Spyro has a bounce in his step and real character in his facial features. The enemies are as animated, with their own personality and hilarity in death animations. The secondary characters, such as the dragons, are fun and vibrant and are all distinctly different.
Voice work is energetic, as several of the main and longstanding original cast members return. The music is an updated rendition of Stewart Copeland's original. He did have a supervisory role on the new music, but in the final game, you will be able to switch between the original and new versions through the menu.
Spyro's Still Got It
Like its stablemate Crash Bandicoot, the Spyro: Reignited Trilogy has fans of the original chomping at the bit to play the remake. It's lovingly crafted by the team at Toys For Bob, but it certainly has a new flavour to it. With three huge world to (re-) explore, you will certainly find new things that the studio has brought to the series. Is it the hardest game in the world? No, but it is fun.  It will certainly have the nostalgic of us buying on release, but now Spyro can be again introduced to a new era. Although he saw some success in recent times, spawning the Skylanders series, this is all Spyro and it is awesome.
I saw it played by the nostalgic 20-30 somethings and also played by parents and their kids. Everyone left with a smile on their face after playing the demo.
Check out Spyro: Reignited Trilogy, when it releases on November 13th for PS4 and Xbox One.