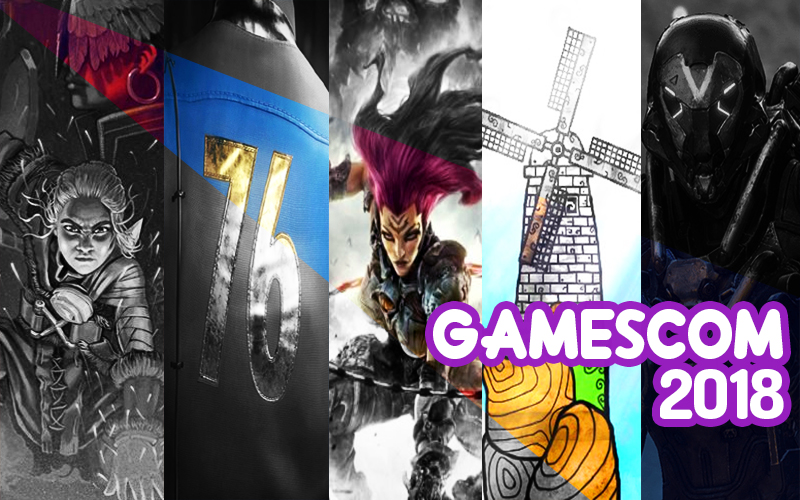 When I use the word 'we', I meant the royal 'we' version. Gamescom 2018 is upon us and the next couple of days are promising to be chock full of announcements, news and trailers. And yes! TheArcade.ie are going to be there front and centre as our team get lost in the labyrinth of halls and booths! It's going to be a blast. As with previous years there are already a few titles and companies that have already caught our eye. So here is what we I am most excited for from Gamescom 2018.
Anthem – Electronic Arts
There was a playable demo of Electronic Arts highly anticipated Anthem at E3 this year. My hope is that we're going to get our hands on that same demo if not more this week! If you haven't already caught it yet check out the cinematic trailer below:
"On a world left unfinished by the gods, humanity struggles to survive in a savage environment. Equipped with incredible Javelin exosuits, a faction known as the Freelancers seeks to tip the balance in mankind's favor. "
Anthem is scheduled for release February 2019! Oh and before we forget EA will not be doing any press briefing this year at the show. So forget any late announcements.
Backworlds – Logic Ember
Now if you're talking about the myriad of indie developers and titles that are on display this year; it's hard to just pick a favourite. Thankfully I can rely on old bias and for anyone attending Gamescom 2018 then be sure to stop by Logic Ember. A Dublin based studio, Logic Ember is the brainchild of Juha Kangas and Anders Ekermo. The team will be showing off their new title Backworlds, a puzzle platform title with a penchant for paint.
To keep up to date with news about Backworlds find them on Facebook right here!
Fallout 76 – Bethesda
If ever you had the urge to struggle for survival in a desolate wasteland, Fallout 76 is here to help. The Bethesda team are taking their nuclear blasted world online with a co-op that had some fans rejoicing and others mourning the loss. Either way we're hoping to see some more of what Fallout 76 will offer players. Bethesda don't like set to make any additional announcements at Gamescom this year either so we'll be just soaking up everything else they have to offer!
Darksiders III – THQ Nordic
You may have seen that THQ Nordic and the long-awaited Darksiders III were not at E3. Well it would seem the team are planning on bringing one hell of a show to Gamescom. Darksiders III finally puts in control of Fury, sister of War, and she's a frickin' mage! A mage with a whip! It's like THQ Nordic reached into my dreams and fashioned a character just for me…
The publisher will also be showing off BioMutant and Scarf but they'll be making the most of their Gamescom time and are expected to have a few reveals.
Iron Danger – Action Squad Studios
The other indie title on my radar this year. Iron Danger is a turn-based strategy rpg where you'll possess the ability to manipulate time. Finnish studio, Action Squad Studios state that the game '…challenges you to think of combat and puzzles from a different perspective: you may be an experienced gamer, who knows all the tricks, but you've never played a game like this.'
To find out more about Iron Danger you can find them here on Facebook.
Of course while the games and the companies and their wonderful staff are always a pleasure, it does go without mention the swag is a bonus too. Well there's a week of gaming/swag collecting ahead of the team. With lots to see, do and play, we'll be sure to keep you up to date on everything that happens at Gamescom 2018.
Editor-in-Chief, part-time super villain and hoarder of cats. If you can't find me writing, I'm probably in the kitchen!