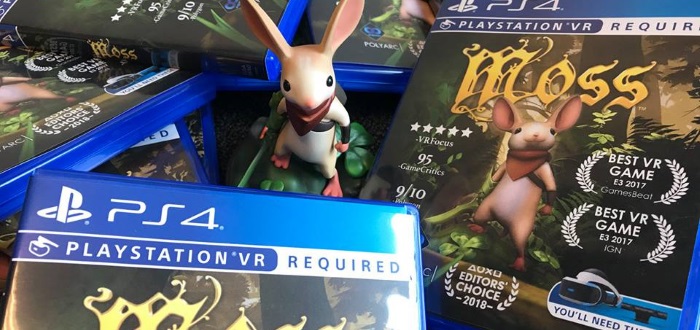 Moss Physical Release And Moves To Other Platforms
Moss is now available as a physical disc for PSVR in EU territories. Originally released on February 27th 2018, it has enjoyed great success both critically and commercially. Moss now gets a physical disc release across a number of territories around the world.
The game has also been fully localised into Spanish and Italian along with a number of big updates, that are detailed below!
Moss Update Details
Along with the retail availability, the game has also received an update that features save slots, localisation and special features for PS4 Pro owners. Here's a bit more detail on the update:
Save slots (3) – Players can now share Moss with others without having to interrupt their own progress

Additional localisation support for

Japanese – VO

Spanish – subtitles and UI

Italian – subtitles and UI

Chinese (Traditional and Simplified) – subtitles and UI

PS4 Pro support – Experience increased graphical fidelity with the latest Moss Update, specifically:

Enhanced water quality with player interactivity and planar reflections throughout entire game

High definition rendering for in-book sequences

Best render resolution throughout all environments
Additional Releases
After enjoying success as a PSVR exclusive, Moss now comes to other platforms with a PC version using Oculus Rift or HTC Vive, now available via Steam.
As we said previously, Moss has been a critical darling for PS4. It is now continuing to get more acclaim thanks to the PC release.
Moss is available now for PlayStation 4 and on Steam for use with Oculus Rift and HTC Vive.