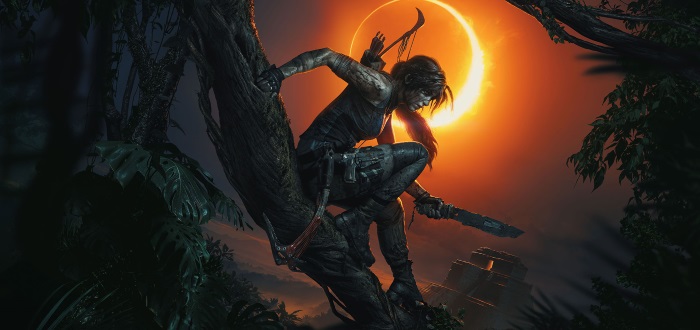 New Info And Trailer Released For Shadow Of The Tomb Raider
A number of live launch events happened recently for the latest installment of Tomb Raider. Lots of new details and a new trailer released for Shadow of the Tomb Raider. Along with the new trailer, event goers were able to play around 45 minutes of the game itself. We have all the details below.
Game Info
Set to release on September 14th 2018 for Xbox One, PS4 and PC, you can experience Lara Croft's defining moment as she becomes the Tomb Raider. In Shadow of the Tomb Raider, Lara must master a deadly jungle, overcome terrifying tombs, and persevere through her darkest hour. As she races to save the world from a Maya apocalypse, Lara will ultimately be forged into the Tomb Raider she is destined to be.
Key Features
Survive and Thrive In the Deadliest Place on Earth: Master an unforgiving jungle setting in order to survive. Explore underwater environments filled with crevasses and deep tunnel systems.
Become One With the Jungle: Outgunned and outnumbered, Lara must use the jungle to her advantage. Strike suddenly and disappear like a jaguar, use mud as camouflage, and instill fear in enemies to sow chaos.
Discover Dark and Brutal Tombs: Tombs are more terrifying than ever before, requiring advanced traversal techniques to reach them, and once inside they are filled with deadly puzzles.
Uncover Living History: Discover a hidden city and explore the biggest hub space ever found in a Tomb Raider game.
Season Pass Info
The Season Pass delivers seven new adventures called "Paths", with each Path including new narrative, new missions, a Challenge Tomb, a new weapon, a new outfit and a new skill. The first Challenge Tomb will also introduce new co-op functionality. Finally, Season Pass owners receive an exclusive weapon, outfit, and skill on Day One!
Release Schedule
A release schedule was also posted, giving the may breakdown of when to expect new trailers and season pass DLC plans. Expect to see the first gameplay trailer to release at this years E3 in June. DLC will drop once a month, for seven months (dates subject to change). Shadow of the Tomb Raider will also be at San Diego Comic-Con, as well as this years Gamescom. Check out all the info in the below image.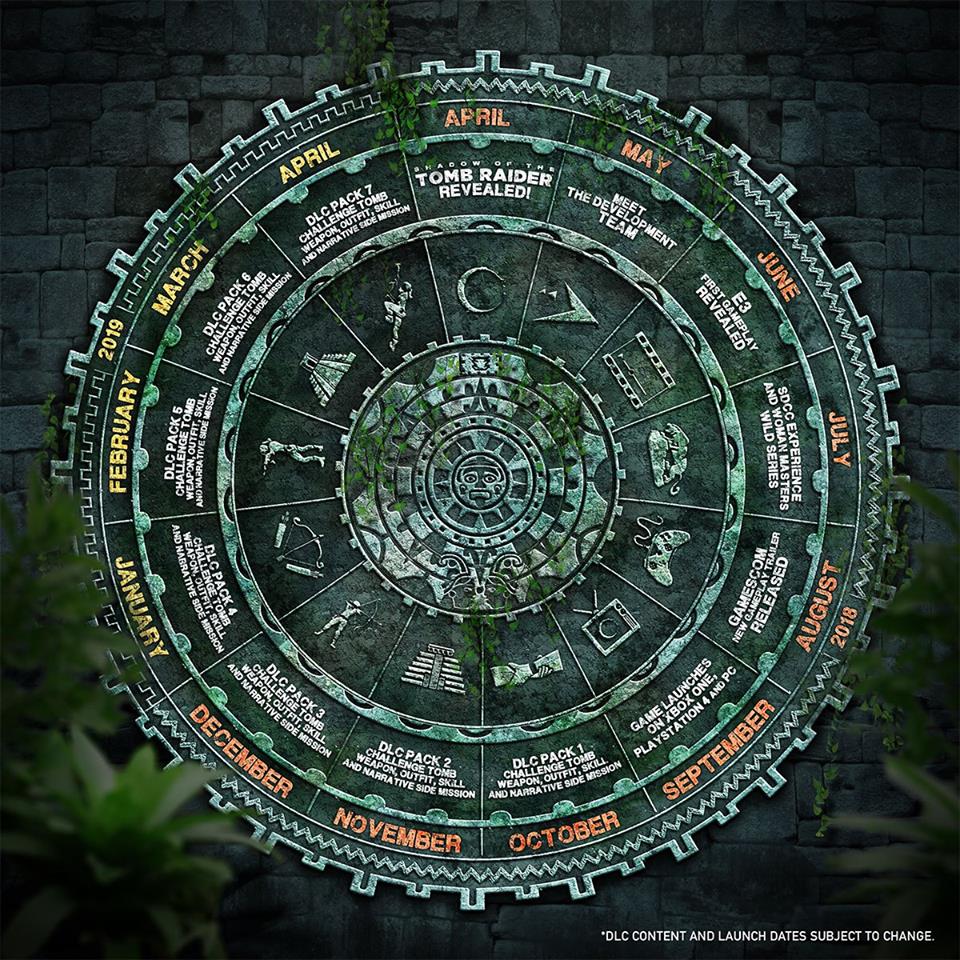 Special Editions and Pre-order Early Access Info
Fans who pre-order special editions of Shadow of the Tomb Raider will receive 48 hours of early access to the game. Early access comes with the Shadow of the Tomb Raider Digital Deluxe, Croft Edition, and the Ultimate Edition. A breakdown of what each edition receives can be found below.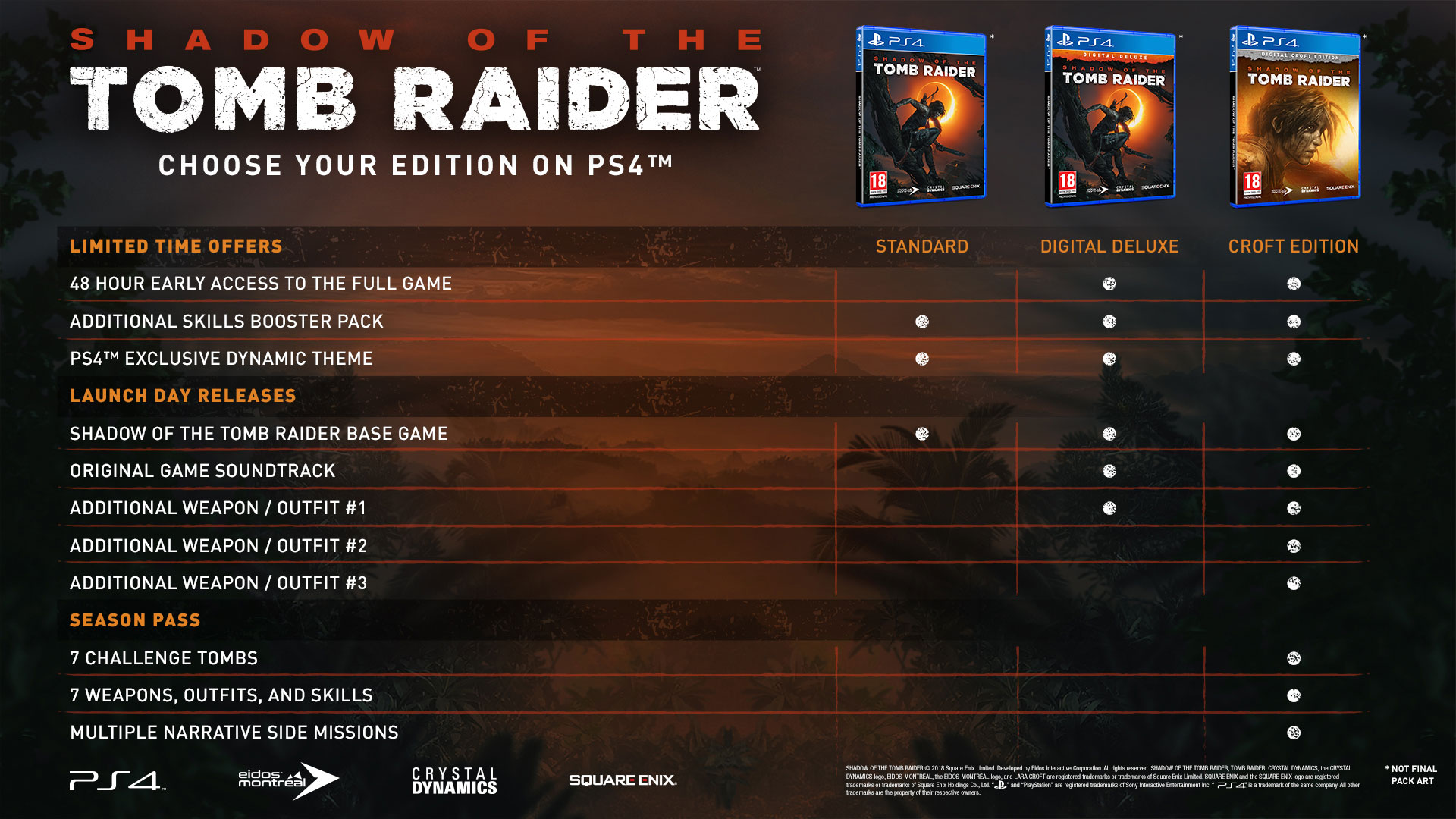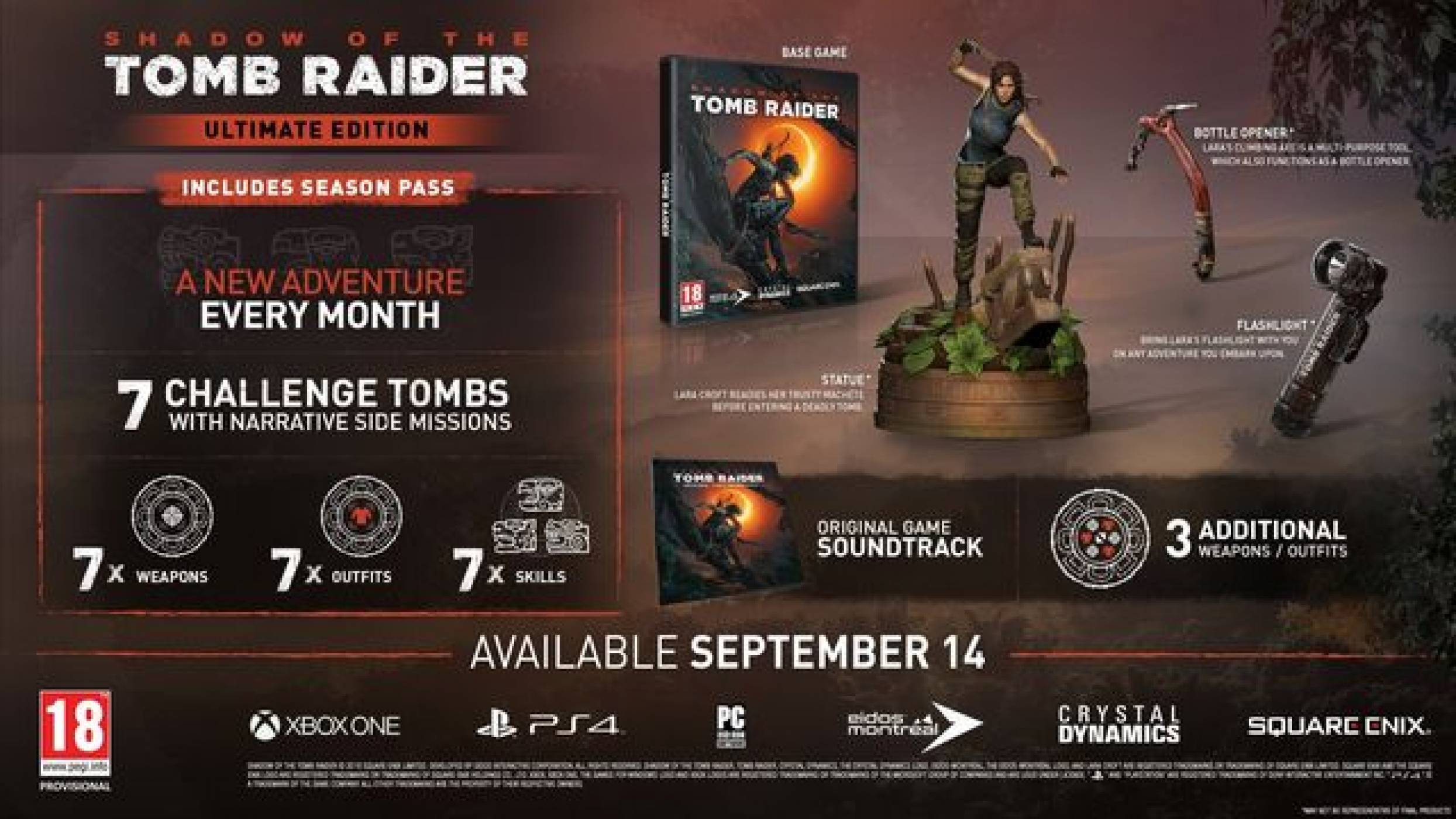 The Standard Edition will cost €69.99, Digital Deluxe will be €79.99, Croft Edition will set you back €99.99, and the Ultimate Edition will be a hefty €199. Pre-orders are available now.
Shadow of the Tomb Raider releases worldwide on September 14th for Xbox One, PlayStation 4 and PC.