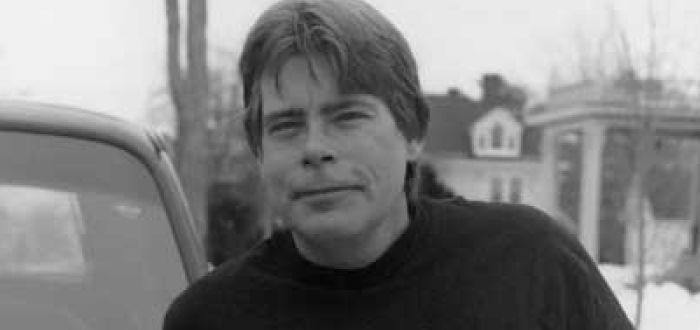 This is my first time writing a Nerd Icon and there was only one possible choice. And that's my favourite writer, Stephen King. I mean, it was obvious that it'd be him considering how often I mention him both in The Arcade and in real life.
Beginning, hard times and success
Stephen Edwin King (16 letters and three words equals 19, the Dark Tower junkie in me made me do this) was born on September 21, 1947. His father abandoned the family when he was a toddler (apparently using the old "I'm going to buy cigarettes" excuse) and his mother raised Stephen and his older brother by herself. He studied English at the University of Maine, there he met Tabitha Spruce, who he'd marry shortly after graduating. They had three children together: Naomi (currently a reverend), Owen (a writer like his parents) and Joe (this is none other than Joe Hill).
The early years in their relationship were a bit hard. Money was scarce and King couldn't find a teaching post. And even when he found one him and his wife had to work plenty of different works, like an industrial laundry (which inspired one of his stories). At the same time he kept writing stories and selling them to men's magazines and working on several novels.
One day his luck turned, though. Stephen King  got frustrated with a novel he was writing and threw it in the trash. His wife rescued those pages, told him the story was good and encouraged him to finish it. That story became Carrie, his first published novel. That book alone (mostly because of the money he made through the advances) solved his financial situation and allowed him to quit teaching to pursue writing full time.
And pursue that he did.
Harder times
After Carrie he kept writing successful book after successful book. At one point his publisher told him he was saturating the market because he wanted to publish more than one book per year, so he tried a little experiment. He decided to make a pen name up, partly to see if his success was just a fluke.
That pen name was Richard Bachman. He wrote four novels under that name until he was outed some years later. Apparently one reviewer said of one of those novels, Thinner, "this is what Stephen King would write if Stephen King knew how to write." Another one of those, Rage, had to do with a school shooting so King allowed the book to go out of print. The curious thing about Bachman is that even though King has been outed for decades he has still revisited the pen name a couple of times by publishing some novels under his name. Funnily enough King talks about Bachman as if he had been a real guy by saying he's his literary executor (because of all things Bachman died of cancer of the pseudonym).
Still, while King was incredibly successful, he was also going through some bad things. He was an alcoholic and took a lot of drugs. Apparently it got so bad that King doesn't remember writing Cujo at all. It all stopped when his family organized an intervention. He's clean and sober now, though he allows himself three cigarettes every day, or at least he used to about a decade ago.
The Present
In 2002, King said he would stop writing. This was in the aftermath of an accident he had been in back in 1999. He was struck by a van while he was on a walk and the injuries were considerable to the point that surgeons almost amputated one of his legs.
A bit later King confirmed that he wasn't retiring, that he was writing at a much slower pace. The thing is, he writes about 1000 words per day, every day. He has been publishing at least two books per year for the past five years, if that's him slowing down then I want to be that slow! I mean, this year he's publishing two books again!
All in all, he's published around 70 books in the last 45 years. Some of those were collaborations with other writers, but most were solo. He's never hesitated from trying different things and has embraced alternate models of publishing (his unfinished story The Plant was written on the internet, his story Riding the Bullet was one of the first ebooks), writing for TV (Rose Red and Golden Years) or even directing. But the less we say about Maximum Overdrive the better. I mean, just look at this trailer. Even he admits the movie is terrible.
What King means to me.
I said it at the start, Stephen King is my favourite writer. Sure, I have many writers whose work I enjoy but he's always the first one who pops to mind. Growing up I was shy and withdrawn so his books were sort of a lifeline to me, I wanted to become a writer because of Stephen King and part of me wonders if I just studied English at university to read him without translations.
The way I got to his books was a bit strange. I was aware of him as "the guy who writes scary books."  But I was 11 so I didn't think I'd be allowed. It all changed after I broke my arm and finally got rid of the cast I had, and the pins putting my bone back together. My mum and I went back home and I turned the TV on. Appropriately enough I stumbled upon a horror movie where someone was undergoing brain surgery. My surgery was nothing like that but it freaked me out so I turned the tv off.
Years later, talking about it with a classmate he told me that the movie was The Dark Half, an adaptation of a Stephen King novel. .Some other classmate told me she had the book. She lied, so my mum said she'd get it for me at Christmas. But I felt I had to be ready, so I borrowed a copy of Dolores Claiborne from the local library. It was a translation but a lot of it went over my head anyway. But I was facing my first grown-up book so I had to power through. And I did. I moved on to The Dark Half, and by the time I read the first Dark Tower I had become a Constant Reader.
All in all, I want to be like him when I grow older. Especially in terms of being a shitposter on Twitter.
Angry Spaniard, adoptive Irishman. Writer, reader, tea drinker and video game player/designer.