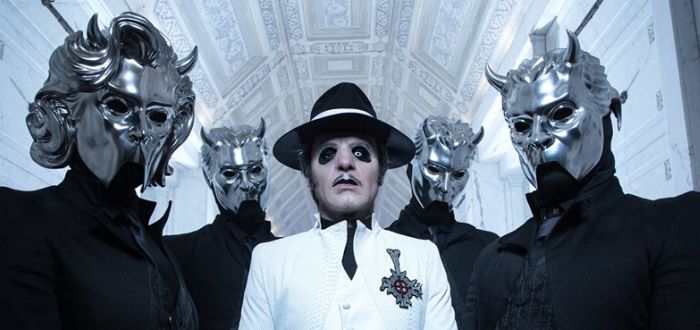 It's not the first time I have posted a tune by Ghost for a Track of the Day, but they're one of those bands that are worth it.
Ghost's newest album, Prequelle, will be out on June 1st. And as is usual with Ghost that means a change of frontman, Cardinal Copia in this case. Not going with a new Papa (and killing all the previous Papas off) makes things interesting for the mythology of the band. And it's also a way of keep things interesting for the man behind Ghost.
Anyway, last month the first single for Prequelle, 'Rats', came out and it was a banger. And another song from Prequelle came out last week. Obviously, that's today's Track of the Day. It's 'Dance Macabre' and it's amazing. As you'll see below, Ghost chose an interesting way to showcase the song.
The studio version of the song debuted on Ghost's official Instagram Story, and it's quite similar to the video above. It just shows a lot of people listening and reacting to the song. The video starts with Sister Imperator (who is part of the Clergy) but you'll see a lot of people like Kirk Hammett, Chris Jericho, Aleister Black, M. Shadows or Jessica Pimentel, to name a few.
And while this way of presenting the song was cool, here's hoping it gets a proper video. The video for 'Rats' was amazing and 'Dance Macabre' deserves an even better video because it's such a banger.
Angry Spaniard, adoptive Irishman. Writer, reader, tea drinker and video game player/designer.