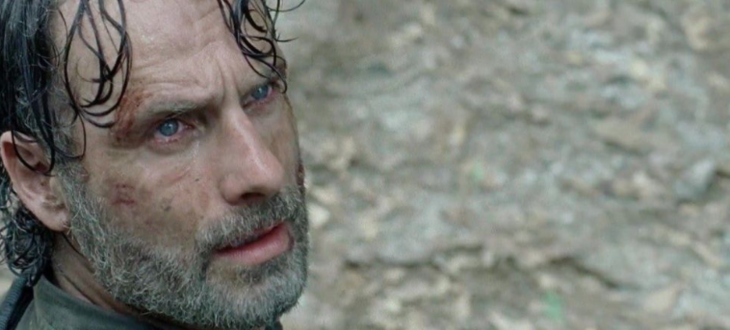 Yep, you read that right. Andrew Lincoln, who plays title character Rick, will be leaving The Walking Dead in season 9.
There has been no word as of yet about how Lincoln will make his exit, but according to multiple sources including Collider and io9, it IS happening.
Norman Reedus (who plays fan-favourite, Daryl) has reportedly negotiated a huge paycheque ($20 million!) to stay on the show, and it looks like he'll be taking the helm from season 9 onwards. Don't get us wrong, we love us some Daryl. LOVE. But he can't carry the show by himself. We can count on our hand how many times he's had a decent chunk of dialogue since season 4 (not including grunts) and we'd have fingers to spare.
But if he does take on the mantle of the main character, who will help helm the show with him?
With Danai Gurira's Black Panther success, Michonne's continued part in the narrative may not be a given. Lauren Cohan, who plays Maggie on the show, has been trying to negotiate a bigger paycheque for quite a while now, so Lincoln's exit has put her in quite a good position. From what we can see, there have been no rumours of Melissa McBride (Carol) leaving.
We're not entirely surprised that Lincoln has decided to leave (though we are a little devastated, to be honest). AMC really jumped the shark last year by letting Chandler Riggs go and Lincoln is probably just abandoning a sinking ship.
Lincoln is a phenomenal actor (and highly underrated) so we're happy that he now has the chance to pursue new projects and get the accolades he deserves. Let's be real; if this wasn't a zombie show, he'd have multiple Emmys by now.
The big question is whether or not the show will survive without Rick. We're pessimistically betting on a cancellation after season 10 (if it even gets that far). Rick IS The Walking Dead. Carl could've carried it on, but someone *cough cough* made a terrible, money-grabbing call and killed him off. So it is what it is.
However, like a bunch of suckers, we're still going to watch to see how this plays out.
What do you think? Are you crying into your pillow? Let us know in the comments!