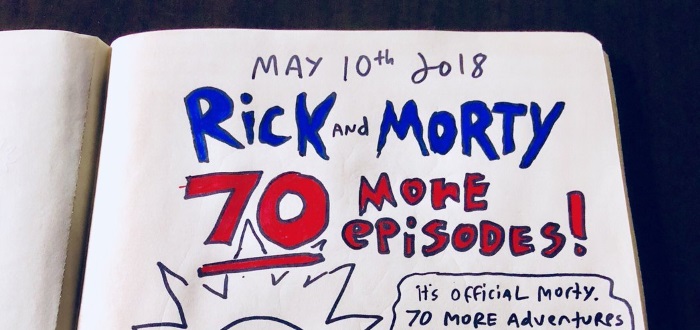 70 More Rick And Morty Episodes Ordered
There has been some doubt lately about the future of Rick and Morty. Season 3 was released and fans loved it, but then there was no word on any follow-up episodes. However, it was revealed via an episode of Smodcast that creators Dan Harmon and Justin Roiland had ideas for a fourth season, but they had not been contracted by Adult Swim to make new episodes.
Harmon said:
"The reason we're not working on Rick and Morty right now ain't because I figured out that I don't need to impress you, it's because of a little something called contract negotiations and it's gotten complicated this time around."
Well fans can now rejoice, as Adult Swim have ordered a massive 70 episodes! Yes, 70 episodes. The current episode count is 31, so that's a lot of potential seasons. Justin Roiland posted the good news on his Twitter page, while Harmon released a quirky Instagram video with Roiland, as they "got to get back to work".
More Rick and Morty coming. Looking forward to all the tweets asking where it is! #theydrawingit pic.twitter.com/KZild3B9rP

— Justin Roiland (@JustinRoiland) May 10, 2018
So with 70 potential episodes incoming at some stage, are you looking forward to more Rick and Morty adventures? Let us know in the comments!