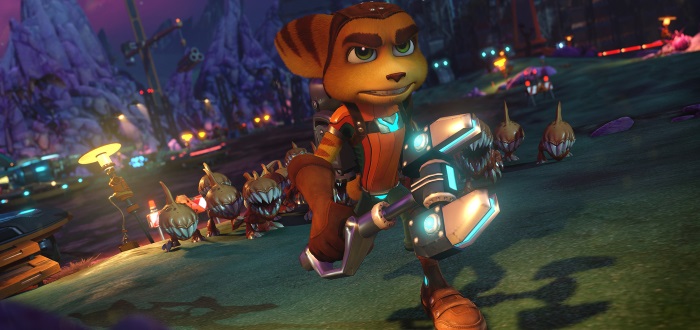 Sony have revealed, via their blog, some big games coming to PS Plus for March. While there are still 2 games for PS4, PS3 and PS Vita, a whopping five games will be available for PlayStation 4, thanks to cross buy.
Bloodborne (PS4)
Enter From Software's Yharnum, the brutal, blood-soaked world of Bloodborne. The critically acclaimed title, mixes slick combat with rich lore, hard as nails enemies and all set to a dark gothic art direction. If you haven't played Bloodborne yet,  it's time to get a little Yharnam blood of your own. Just to note, you will die, many times!
Ratchet and Clank (PS4)
Ratchet and Clank is one of PlayStation's most popular series of games. The bright colourful world of the first PS2 title was re-imagined from the ground up for PS4. It expands on the originals story and pacing, while keeping the crazy combat, wacky weapons and stunningly bright art style. The gameplay is fun and varied, with combat, racing and puzzle based levels sprinkled throughout. Definitely one everyone can enjoy.
The Full lineup for March
Bloodborne (PS4)
Ratchet and Clank (PS4)
Legend of Kay Anniversary (PS3)
Mighty No. 9 (PS3 and PS4)
Claire: Extended Cut (PS Vita and PS4)
Bombing Busters (PS Vita and PS4)
The lineup leaving PS Plus are as follows:
Knack (PS4)
RiME (PS4)
StarBlood Arena (PS Plus bonus – PS VR required)
Spelunker HD (PS3)
Mugen Souls Z (PS3)
Exiles End (PS Vita)
Grand Kingdom (PS Vita & PS4)
There is also some news regarding the future of PS Plus titles. Starting next year on 8th March 2019, the PS Plus monthly games line-up will focus on PS4 titles and no longer include PlayStation 3 and PlayStation Vita titles. All your previous PS Plus games will be available as long as you are a member, but from March 8th 2019, only PS4 games will be focused on. More info will come via the PS blog in the coming months
So what do you think of this months lineup? You can download any of the titles from Tuesday 2nd March 2018.