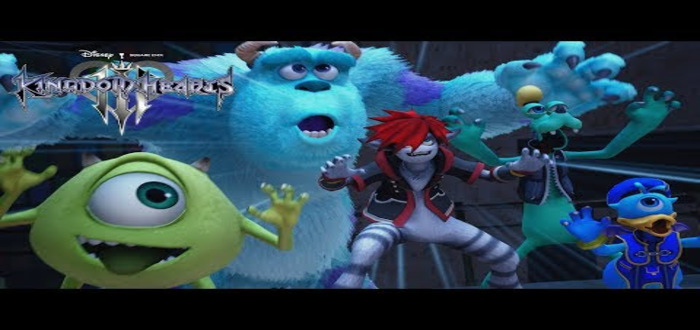 Kingdom Hearts fans have to be some of the most patient people around, endlessly hoping for even a snippet of information of the long awaited Kingdom Hearts 3. The D23 Expo Japan was like a late Christmas for us, not only was the new Monsters Inc world unveiled but some never before seen footage of previously announced Tangled and Toy Story worlds.
Sora continues his adventures in Monstropolis, taking on monster forms to better blend in. Teaming up with Mike Wazowski and James P. "Sulley" Sullivan with even an appearance from Boo as they bring their scare tactic along to help out.
From the already announced worlds we were treated to new cut scenes where Rapunzel (and Flynn Rider? Anyone else catch him in there?) As members of your team. Some rocket flying action from Toy Story, a link system that featured the return of the Dream Eater Meow and Ariel. Two big bads return to stir up some trouble – Marluxia and Vanitas.
The good news did not end there. We all knew veteran singer Utada Hikaru was going to make a return for the third instalment but Square Enix released the title song "Don't Think Twice", accompanying another teaser trailer of a mysterious conversation between Riku and King Mickey. This leaves fans no doubt needing to know what is going on.
Kingdom Hearts 3 has been in development since originally announced at E3 2013. Scheduled for release in 2018.