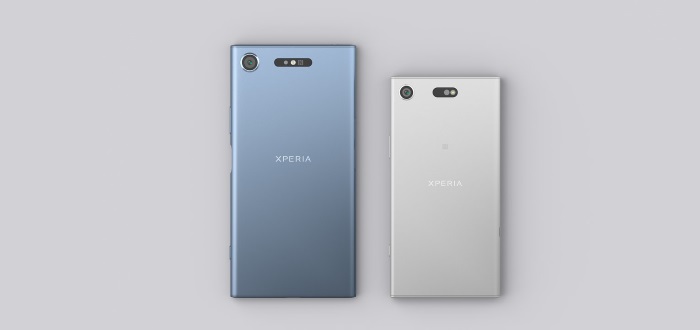 Sony have recently released their new XZ1 and XZ1 Compact. The Xperia range hasn't been at the forefront of the high-end market in recent attempts, with its last couple of iterations lagging in performance and features. Sony's XZ1 range is certainly an improvement on previous releases and has some great new additions. A number of weeks ago, I got to check out the new XZ1 and XZ1 Compact. Below I breakdown both phones.
Design and Display
XZ1
The XZ1 has an unmistakably Sony sleek, round edged, square design and has a crisp 5.2'' Full HD 1080p HDR Display that has a Dynamic Contrast Enhancer, Sony's TRILUMINOS display and X-Reality for mobile technology built in too. It measures a healthy 148mm x 73mm x 7.4mm, meaning it's large in size but comfortable to hold and use. With its HDR display, colours are rich and vibrant, rivalling many of its current competitors. The XZ1 features a fingerprint recognition button (which it's single touch activation is surprisingly responsive), volume control and camera buttons on the right side, with SIM card and SD card slots accessible on the left. The non-removable battery is surrounded by a smooth metal chassis, with plastic top and bottom. The case is also water-resistant (IP65/68) to splashes, but it is recommended not to submerge the phone in liquid. It's a nice weight coming in at 156g, so doesn't feel too bulky in your pocket.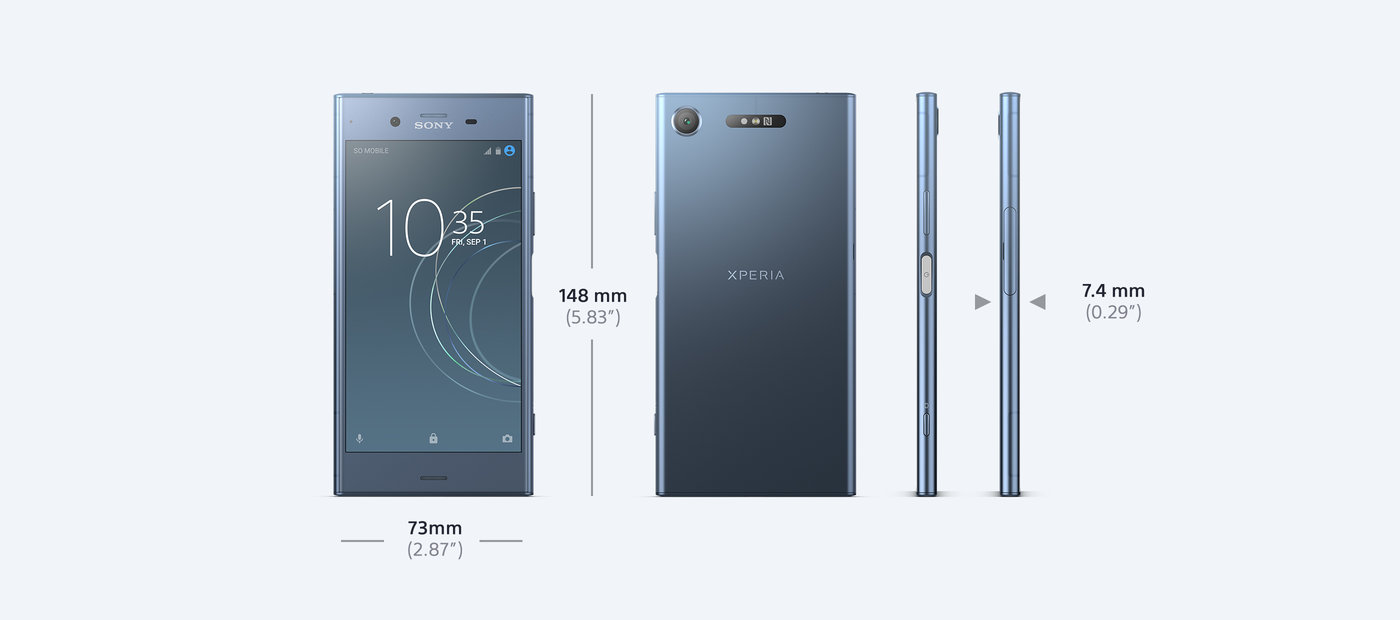 XZ1 Compact
The Compact also has the Sony square design, but is less bevelled and is a bit bulkier in size due to squeezing in most of the same XZ1 tech in its 129mm x 65,mm x 9.3mm shell. Weighing in at 143g it still feels comfortable and is very easy to use and navigate, even with one hand. The display isn't as sharp as the XZ1, but the Compact has a solid 4.6'' HD 720p display and still has a crisp image. The phone is also water-resistant (IP65/68), has a tough exterior and durable Corning Gorilla Glass 5, which will easily keep up with an active lifestyle.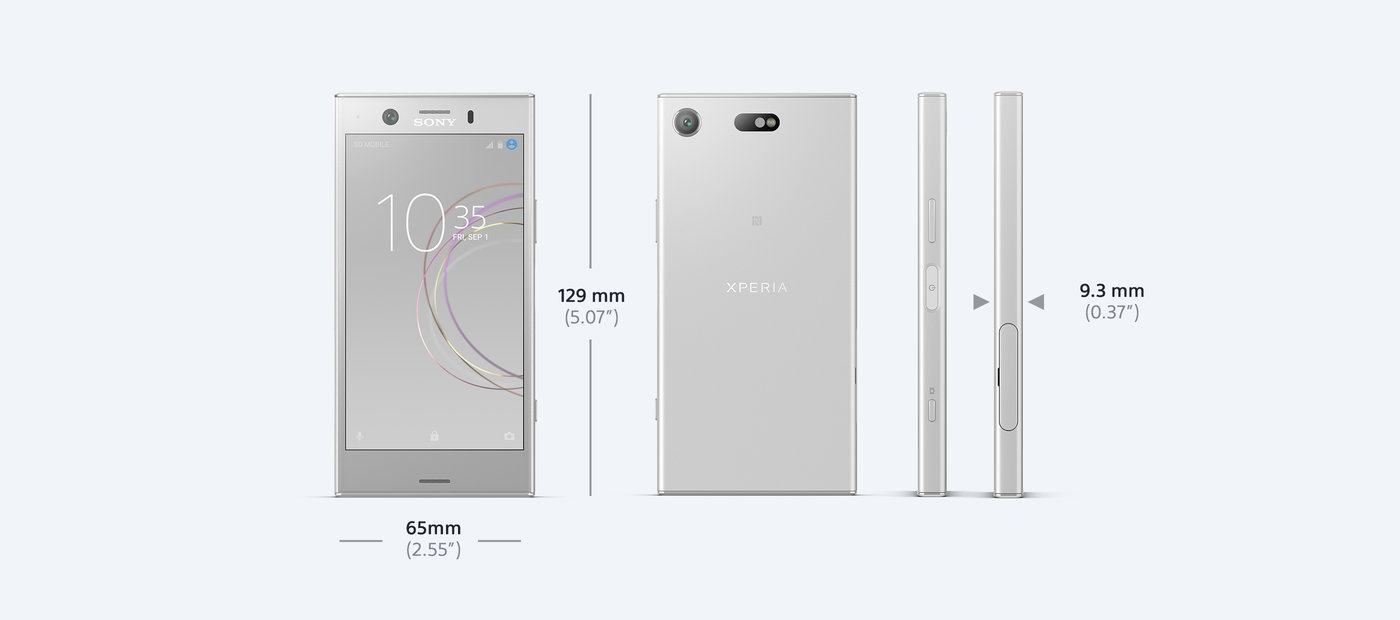 Performance
A Qualcomm SnapdragonTM 835 powers the pair and both have 4GB of RAM. Both phones also were the first Android phones to come pre-installed with Android 8.0 Oreo operating system. All this adds up to nice responsive devices that run most performance draining apps and games very smoothly and without any hitches. There is 64GB of internal storage for the XZ1 and only 32GB for the XZ1 Compact, with a microSD slot allowing you to gain up to 256GB of additional storage in either phone. The XZ1 also has dual SIM capability and uses a Nano SIM, while the XZ1 Compact has only single SIM capabilities.
Camera
XZ1
Sony incorporates its own camera technology into the XZ1 with a 19MP Motion EyeTM rear facing camera, that has Sony's award-winning 25 mm wide G Lens f2.0. It has many photo capabilities including predictive capture, x8 zoom, autofocus burst and triple image sensing technology. The XZ1 can also record in 4K and also features a pretty nice 960 fps super slow motion video recording mode. In well-lit or daylight conditions, the picture and video quality is high, rich and vibrant and playback on the HDR screen is superb. In darker conditions, the XZ1 is certainly better than previous Sony phones. I was able to get some great night-time and interior shots, but image quality can suffer in low lighting. Its front facing camera isn't the highest spec compared to other phones in its class, but is very decent at 13MP and has a 22mm wide-angle lens f2.0. Finally the 3D-scanning feature uses a preloaded 3D Creator app and the phone is able to perform detailed 3D scans of faces, food and other everyday objects in great detail, which you can even print.


XZ1 Compact
The XZ1 Compact's rear facing camera is pretty identical to it's bigger brother, but its front facing camera is slightly smaller, as it is an 8MP and an 18 mm/120° FOV (adjustable) super wide-angle lens, allowing you to fit more people and scenery into one shot.
Sound
The Xperia XZ1 and XZ1 Compact comes with a standard 3.5 mm audio jack for plugging in wired headphones. It boasts High-Resolution Audio with powerful stereo speakers and S-Force Front Surround Sound. The sound is crisp and very audible, even on low volume with noisy surrounding conditions.
Battery Life
The battery in both phones is a 2700 mAh and despite the high specs of each phone, it is very durable and long-lasting. Charging and data transfer is through a USB-C port which supports USB 3.1. The XZ1 & XZ1 Compact have several settings that help you adjust energy consumption to stay powered up throughout the day. Its charging technology, which includes Qualcomm Quick ChargeTM 3.0, helps the battery stay healthy and gives you up to twice as long battery lifespan. I was able to get a full day and the start of a second day with one charge and standard use. With more intensive usage with certain apps, camera functions, social media and tinkering with some battery settings, I was certainly able to get through the majority of the day on a single charge.
Final Thoughts
Overall I really enjoyed my experience with both the XZ1 and XZ1 Compact. With very similar and high range specs and a solid battery life, I can recommend either version to buy, as you won't lose out on performance even from the Compact version. In some cases, I found myself bringing the smaller XZ1 Compact with me, as it was high performing, had a sturdy feel and was very easy to use in one hand. But if you want all the features and a higher resolution screen, the XZ1 certainly gets a firm recommendation from me among its competitors. 
The XZ1 is priced from €649.99 on a prepay connection and €699 SIM free. The XZ1 compact is exclusively ranged with Vodafone and is priced from €549.99 on a prepay connection and €599 sim free. For more information you can check out Sony Mobile's website, Facebook or Twitter pages.