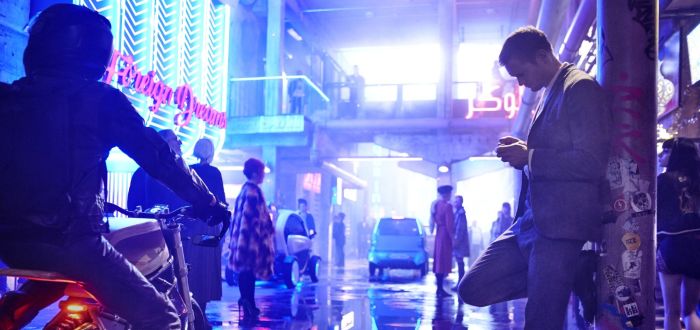 Duncan Jones' Mute Gets a Release Date
Back in 2009 Duncan Jones directed his first movie, Moon. But before that he had wanted to direct another film, Mute. He wanted to make Mute after Moon but the film got stuck in development hell, then it was going to be a graphic novel but nothing came out of it. At least until now, a couple of years ago Jones finally could work on bringing Mute to fruition.
Netflix bought the rights (they plan to do a small release on cinemas in the US as well) and the wait is almost over. Mute will be out on February 23rd. There's no trailer yet but the film looks amazing.
So here we are.@mute. Starring Alex Skarsgård, Justin Theroux & Paul Rudd.

Out on Netflix February 23.

Got there in the end! pic.twitter.com/rmCE65ghcN

— Duncan Jones (@ManMadeMoon) January 19, 2018
Mute is set in the distant future in Berlin. It follows a mute man (played by Alexander Skarsgard) who's trying to find his missing girlfriend. It's set several years after Moon and presumably Sam Rockwell will make at least a cameo reprising his role from that film. The cast also includes Paul Rudd, Robert Sheehan, and Justin Theroux. Clint Mansell is in charge of the music. And if this wasn't enough Jones has plans for another film, set in that same universe.
Between this film and Altered Carbon it looks like this February Netflix will be a bit more cyberpunk. I'm happy with that.
Angry Spaniard, adoptive Irishman. Writer, reader, tea drinker and video game player/designer.