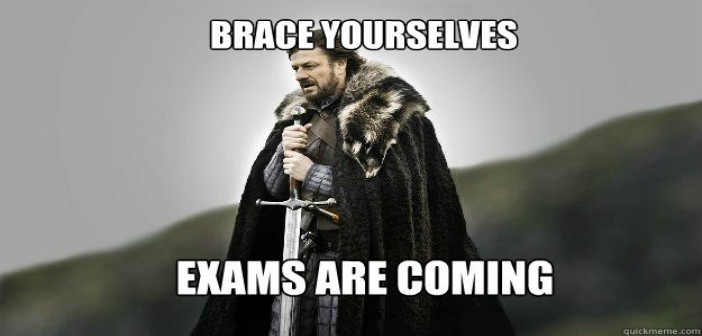 Gif Essay – Approaching Exam Season
Dare I even mention the dreaded "exam season" that's looming ahead. Even if you're no longer in school or college, you no doubt know somebody who will be tackling exams within the coming weeks. And there are a lot of recognisable signs students are starting to get stressed before they reach the sweet release of the holiday season.
Emotions Leading up to Winter Exams
First, there's the week one. It's fine, you've got a few assignments left but you've got plenty of times to complete those AND study for those pesky exams. You're feeling good – you can take on anything – you can do this!
As you approach week two, then a mild panic may set in as exams begin.
You're stuck in a stuffy exam hall for a few hours and all you want to do is give in to the Christmas cheer building up around you, outside those walls.
Week three is the worst. The tears set in and all the negative thoughts flood in!
Procrastination is at its highest level. Your playstation calls out to you. That stack of unread comic books teeter in your direction. Why do you suddenly feel like celebrating Christmas? It's funny how festive you can feel when you have no time to indulge.
..
At this stage, you'll want to do anything else other than open a book and study – but yet, you have to!
But then you come home from your final exam. It's a mixed bag of emotions. After spending hours and weeks  studying, you don't really know what to do…
But it's all okay, because the relief and celebration at the end of the journey is worth it!
Are you sitting exams this winter season? Relate to any of the above stages? Let us know in the comments below!
Doing a little of this, a little of that. If you see me holding a camera, run!