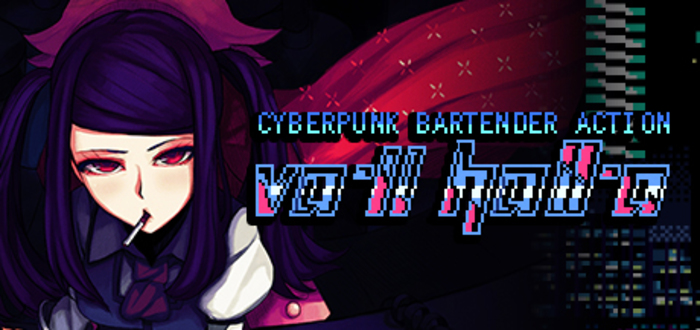 There's a lot to be said about the value of a good story in games. Some will prioritize mechanics, others will say it's the aesthetic. But personally, I always put the story up top when judging a game. For that reason, I tend to give a pass to a genre with a bad rep; visual novels. Now don't get me wrong, there are some awful ones out there, but there are also some gems. And among those gems lies the awkwardly named Va11 Hall-A, also known as Valhalla.
When I first heard about this, I was at EGX. Among the many indie games up for public consumption, there was a small booth showcasing Va11 Hall-A. They billed it as 'Cyberpunk Bartender Action: A Booze'em'up about waifus, technology and post-dystopian life'. I literally had no idea what any of that meant. I had seen the words, and understood the words, but never ever in that order. What on earth could this game be about and what the hell should I expect?
Well, they explained it to me as such: Valhalla is a visual novel type game where you serve drinks at a bar. It sounds simple. However to say that this game is deeper than it appears is an understatement. It's up to you to get the drinks correct or maybe give the client something they don't expect. If you desire, get them drunk as a skunk and watch them spill their guts! The real aim of the game is to lend a sympathetic ear to these poor souls. Experience their stories, as well as your own, and build a rapport with your customers through their orders.
It's an interesting concept. The usual visual novel approach is simply to pick the correct responses or give gifts to characters. Whereas in Valhalla, there are no responses. You don't choose how the main character, Jill, reacts to hearing stories. She has her own backstory, with her own outlook on life. To leave her reactions in the hands of the player would detract from her own story. The only way you have of influencing what goes on is by mixing drinks, much akin to real life bartending. Sure, you might give the characters a hangover which could affect their stories. But that's all. Your job in Valhalla is not to influence these people's lives, but to absorb them.
Throughout playing this game you build very real connections with the characters. Whether it's the lovable android hooker with a heart of gold or the crabby old newspaper editor, you'll find yourself actually caring what happens and hoping they'll pop in again for one more drink. And there's always more to discover. Depending on what drinks you make them you'll get more or less information and discover more about the characters motivations. This, of course, includes the protagonist, though her story is more closely related to how much money she earns.
Add this together with multiple endings to the game and you have a sweet, unique, engaging little indie game that can keep you going for a long time. Plus, it has a pretty awesome soundtrack! If you haven't tried this one out, I definitely recommend it, you won't regret it!
Va11 Hall-A is available now on Steam. If you do play it, be sure to come back and let us know what you think and what ending you got!