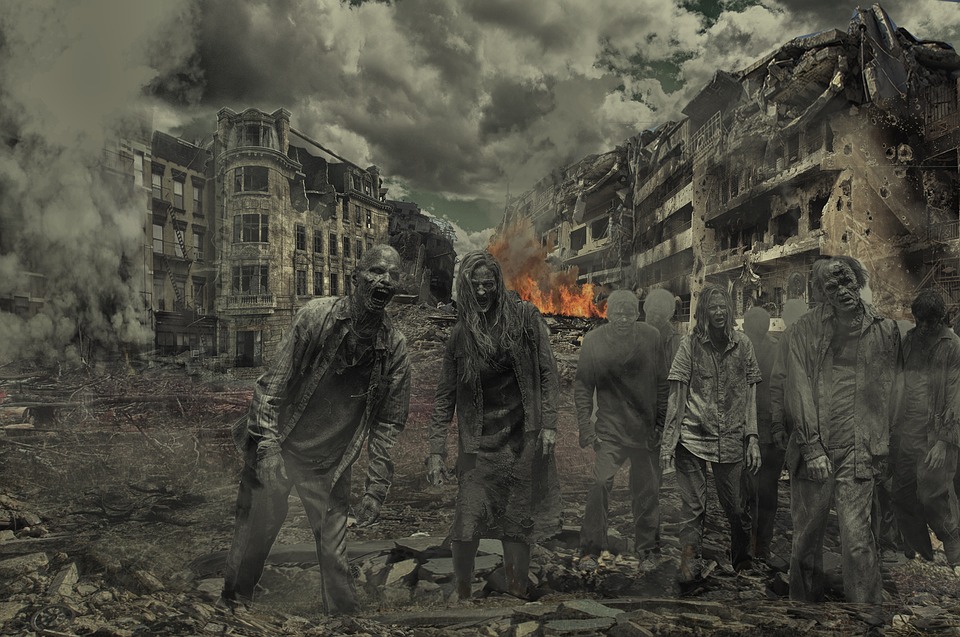 Top Four Upcoming Zombie Games – The List
I've been obsessed with zombies and the concept of a post-apocalyptic world ever since I started watching The Walking Dead seven years ago. It's intriguing to think about what would happen if a zombie apocalypse suddenly forced society to a halt. Imagine no longer having to worry about money, material goods or your career. And instead, survival becoming your sole concern as you wake up every day to face the undead.
No one knows how they would react in such a forced fight or flight situation. Everything you thought you knew about yourself would be tested as you learn to adapt to this new world. You'd have to be sufficiently able to fight, look after yourself medically and ration food and water.
And then what happens if you do manage to survive long into the future? Do you rebuild the society you once knew? Do you reshape the world into a new version of society? Or do you accept your new primitive role in this post-apocalyptic waste land?
The longer you think about it, the more possibilities arise. That's why I think there's so much potential for zombie-based video games! Fortunately, the market for games based in post-apocalyptic settings is ever-growing in today's gaming industry. So here's a few of the most promising zombie survival games coming out in the near future.
1. Days Gone
Days Gone was first revealed back at E3 2016. Since then Sony has slowly built a hype for the game. Most recently, some more gameplay of Days Gone was showcased at this year's E3, where it was also confirmed the game will hit shelves early 2018.
In Days Gone, you play as a rebellious biker named Deacon St.John. In a post-apocalyptic world left ruined after a global epidemic which took place two years previously, St.John prefers to act as a lone wolf, avoiding confined civilian camps.
As a result, this open world horror/survival game allows you to explore this ruined world, while killing zombies or 'freakers'. The overall storyline of the game is still unclear, but maybe St.John is on the hunt for a cure.
Ultimately, the game is being described as a mixture between The Last of Us and Sons of Anarchy. From what we've seen so far, the game looks great. The graphics are stunning, and the gameplay seems really engaging. Hopefully, it really develops the theme of how society can function after an apocalypse – and not turn into another click and shoot zombie killer.
2. Overkill's: The Walking Dead
As a TWD fan, this is probably one of the games I'm most excited to see drop in the New Year. I absolutely loved what Telltale did with their Walking Dead series, and it's honestly one of the best gaming experiences I've had. That being said, I think there's a lot of potential for a first person shooter based off the world created by Kirkman.
The Walking Dead: Survival Instinct half-heartedly attempted to achieve such a game. But with little success. However, Overkill's: The Walking Dead seems like it could be promising.
Essentially, the game will be a co-op, first person shooter – with elements of survival, horror and action weaved into the game. It'll be set in the walker infested universe we've come to know through TWD comics and TV show. Could this mean we could cross paths with the characters of this post-apocalyptic world too? I sure hope so – imagine what a boss battle Negan would be!
Another exciting concept is the fact that Overkill plan to make unprecedented crossovers between their heist game Payday 2 and their new TWD game. These too different genres of gaming coming together could prove for an interesting experience.
Overkill's: The Walking Dead is set to release on Xbox One, Playstation 4 and PC in 2018. It'll also be available to experience through VR too!
3. Dead Matter
After being Greenlit by their fans on Kickstarter, Quantum Integrity Software confirmed Dead Matter would be released in 2018. Initially, the game started out as nothing more than a mod in 2012 – but the developers behind Dead Matter are determined to see its success. And honestly, I think they have cause for hope.
Although you could compare Dead Matter to State of Decay, I've never really seen anything like it before. It's a sandbox survival horror game, but an intensely detailed one. It almost acts a simulation to what it would actually be like to live in a post-apocalyptic world.
The game features a fully dynamic day/night cycle, and a realistic world swarming with hoards of the undead. Within this world, you will have to craft your own gear and tools in order to survive. This crafting element also allows you to upgrade weapons and gear in order to optimise survival.
Just like in real life you'll need a heck of a lot of food and water to survive. You can ransack houses, hunt and even grow your own crops, with farming being an integral part of the game. You can even learn to generate electricity to power your home!
This game seems like it could prove to be challenging. Dead Matter seems like it will provide gamers with a pretty accurate idea of how hard it could be to survive in a zombie infested world. It's so detailed that even each limb on your character needs to be individually inspected for disease or wounds.
Set to release in 2018, Dead Matter will be available on PC through Steam.
4. State of Decay 2
State of Decay is a horror/survival adventure game that was originally released for Xbox 360 in 2013. After gaining traction, a remastered version of the game known as the Year-One Survival Edition was launched in 2015. I've played the newer version, and the concept behind the game is brilliant. State of Decay offers players complete freedom in a post-apocalyptic world. You create bases, with all the facilities you need to survive – medical stations, workshops, sleeping quarters and all that jazz.
Each character has their own unique set of traits which can be useful for different situations. And each character is very much mortal too.
While State of Decay was good, it was also extremely glitchy. So, while State of Decay 2 will run on the same concept as its predecessor, it'll hopefully do so more smoothly. There's also certain features that will be added to the game, including a multiplayer mode. This in particular is something fans of the game have been asking for eagerly.
State of Decay is set to drop on Xbox One in 2018.
What do you guys think – any of these games catch your eye? Or do you think the zombie genre is becoming too saturated with half-baked games? Let us know in the comments below.