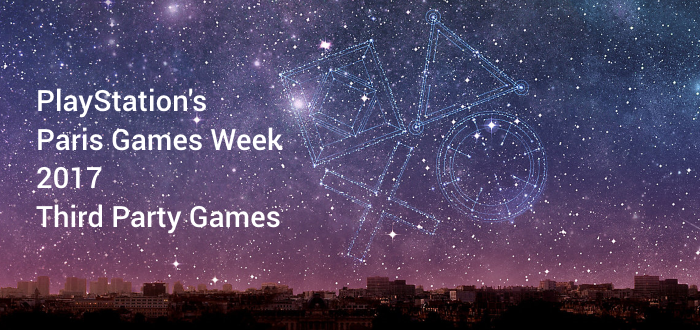 PlayStation's Paris Games Week 2017 – Third Party Games
Here is a breakdown of the PS4 games by third party developers, that were show at Paris Games Week 2017. We also have separate articles for  PS4 exclusives, PS VR games,  and Indie games.
The Sims 4
The Sims 4 is a full port of the PC version and it will release with all the current PC DLC. It will also get future updates and DLC that the PC version will receive. The Sims 4 is out on November 17th 2017.
Tennis World Tour
From some of the developers of the Top Spin series comes a brand new tennis game called Tennis World Tour. The game has a number of real life players and will be a new entry into the sports simulation market. It will release in Spring 2018.
Final Fantasy XV: Episode Ignis
The new DLC expansion to FFXV will follow Ignis and will release on December 13th 2017. More news also revealed that Yasunori Mitsuda would be a guest composer for Final Fantasy XV: Episode Ignis.
Far Cry 5
Far Cry 5 allows players to freely explore Hope County's rivers, lands, and skies with the largest customisable weapon and vehicle roster ever in a Far Cry game. Play on your own or team up with a friend to complete missions or have fun in the world of Hope County. Pick up Far Cry 5 on February 27th 2018.
Destiny 2 Expansion I: Curse of Osiris
Destiny 2 Expansion I: Curse of Osiris continues your Guardian's journey with all-new story missions and adventures set in a new destination, Mercury. Journey through time and space to learn the secrets of Osiris, avert a dark future, and rebuild the ties between the legendary Warlock and his greatest student – Ikora Rey. Expansion I: Curse of Osiris arrives December 5th 2017.
Monster Hunter World
Some new footage of Monster Hunter World. PS4 players will also have the opportunity to play as Horizon: Zero Dawn's Aloy. The game releases on January 26th 2018.
Call of Duty: WWII
Call of Duty: WWII is only a number of days away and there was a new trailer showcasing some more intense action. Also announced is the date of the first DLC expansion titled The Resistance. It will release first on PS4 on January 30th. You can pick up COD: WWII on November 3rd 2017.
Onrush
Onrush is a new and fun racer from Codemasters and the brains behind PlayStation's MotorStorm & Driveclub titles. Tracks are over the top, there are a mix of vehicles and it's all wrapped up with break neck speed. Onrush will release in the summer of 2018.
So there are plenty of new and exciting games on the horizon, as well as some exclusive content for PlayStation owners. What do you think of the new announcements?