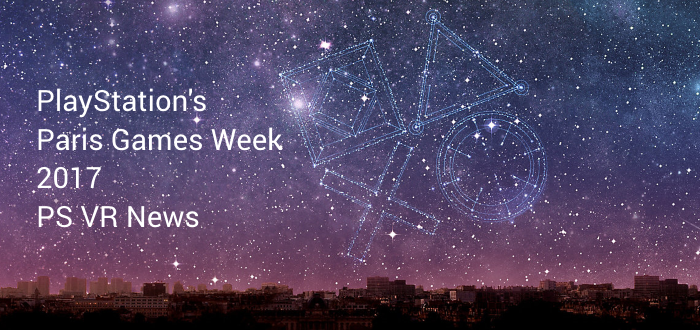 PlayStation's Paris Games Week 2017 – PS VR News
PlayStation have announced an array of games for PS VR and they look to support the platform into 2018. Here is all the Paris Games Week 2017 PS VR news. We also have articles covering  PS4 exclusives,  third party support and  Indie games.
Megalith
Megalith is an action-packed hero shooter that transforms you into a titan, letting you use your massive size and firepower to compete with others in a quest to become a god. Immersed in the conflict of an ancient world, you will need to use a combination of teamwork and skill to survive. It's coming to PS VR in 2018.
Bow to Blood
This new PS VR title sees you take control of an airship to battle other airships and will feature procedural generation environments. Check it out in 2018.
Ultrawings
In Ultrawings, players fly multiple, light aircraft to complete a variety of challenges across a beautiful, island-themed world!  The game includes full motion support for an unparalleled level of immersion and interactivity! It will release in 2018.
Sprint Vector
This fast paced, action packed has the player run, jump, climb, fling, and fly at extreme velocity, as you race up to eight players and battle obstacles in this frenetic VR adrenaline platformer. It has a high impact art style and booming soundtrack. Check it out in 2018.
Moss
We got to check out Moss at Gamescom this year and loved how you controlled Quill and interacted with the world. The guys at Polyarc now have a release window of February 2018! This is one to watch for sure.
Star Child
Star Child is a cinematic platformer set in a mysterious sci-fi world, coming soon from Playful.
Resident Evil 7
The upcoming DLC for Resident Evil 7 will see you take on Chris Redfield, as he comes up against new and terrifying enemies in his pursuit of a fleeing suspect in Resident Evil 7's free 'Not a Hero' DLC, coming December 12th 2017. It can be played with or without PS VR!
Dead Hungry
This wacky game sees you grill, fry and bake your way to freedom in Dead Hungry, a fast-paced new PS VR title from the makers of the legendary PixelJunk series. What better way to cure zombies, than feeding them some burgers! Dead Hungry is out right now.
Stifled
Experience virtual reality horror in a whole new light in this sound-based thriller where enemies hear your fear. This vector-esque game has a fantastic atmosphere. Play it right now, as it has just released!
League of War
This table top sets players in a strategic battle of units to see who comes out on top. Each unit takes a certain amount of energy to deploy, depending on how powerful it is. When a unit is ready to deploy, simply pick it up, put it down on the battlefield, and watch it go zipping off to destroy the enemy's base. League of War: VR Arena will release later in Fall 2017.
Blood & Truth
From the makers of PS VR Worlds, in particular The London Heist, brings you Blood & Truth. This takes you into a world of high octane set-pieces, similar to your favourite action movies. Blood & Truth takes place in modern day London against the city's backdrop of glamour and grit, making it the perfect location for a criminal underworld to inhabit.
PS VR is certainly getting some fantastic support and game releases in the coming months and well into 2018! What games stand out for you? Let us know in the comments!