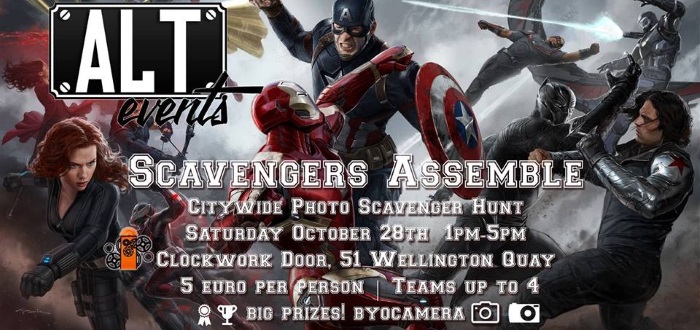 Alt Events Dublin Scavengers Assemble
Want something fun to do this Halloween session? ALT Event Dublin are staging a city wide scavenger hunt dubbed – Scavengers Assemble.
The event will take place on Saturday 28th October and will kick off from 1pm at The Clockwork Door, 51 Wellington Quay, Dublin, Ireland. You and up to three friends will band together to take on ALT's weird and wacky array of photo-challenges as you scramble across the city on a strange sightseeing tour of Dublin's often overlooked marvels. For just €5 per person, your team will compete against dozens of others for one of their extravagant prizes – all generously donated by businesses right here in the city centre!
It will be followed by an after party back at The Clockwork Door, where some of the best photos will be shown, as well as fun, games and banter with free tea, coffee, and popcorn for everyone!
For more info head on over to ALT's Facebook page or sign-up on their event page.