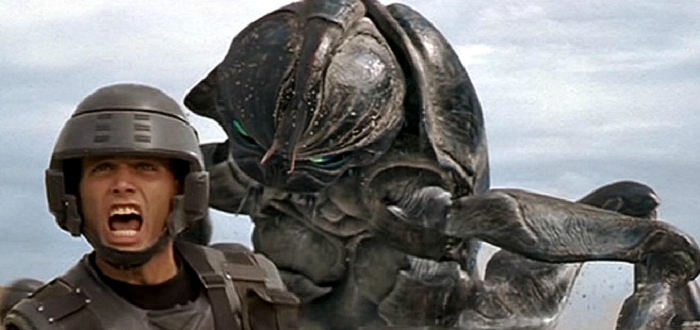 Starship Troopers – Screen Savers
Cast, Crew and Continuation of the Franchise
For those unfamiliar, Starship Troopers is a sci-fi action film released in 1997, an adaptation of the book by the same name by Robert A. Heinlein. It was adapted by Edward Neumeier and starred Casper Van Dien as Johnny Rico.
The reason I pick out these two of a noteworthy cast and crew is due to their heavy involvement in the franchise to this day, with Starship Troopers: Traitor Of Mars, having only been released a week ago. I've not had a chance to watch it yet but I'm looking forward to it. It's been a busy month for films!
Oh, it also features Dina Meyer reprising her role of Dizzy Flores. As I've not yet seen it, I can't attest to how big the part is (the trailers imply a rather major one).
Casper Van Dien was actually at K-Con earlier this year and you have no clue how much I regret missing that! I have it on good authority, from someone who DID make it to the convention, however, that he is a delight. He also got engaged while he was in Ireland (A Facebook video can be found here) and the proposal was adorable.
Plot
I guess I should probably talk about the film itself though, right? Or I could continue on with anecdotes and trivia. I'm tempted… I mean, of course I'll recommend the film, if you like over the top visceral action. Basically the story follows Rico, a human in a fascist and militaristic future, as he joins the Mobile Infantry to do battle with giant alien bugs in a fight for survival.
Props and Effects
The armour of the Mobile Infantry was used in Power Rangers in Space by the human soldiers of the series. Even the Power Rangers have to face down the bug menace. It can be seen in the intro below:
I've been meaning to have a crack at making that armour for cosplay at some point. I'll get there eventually!
The bug effects were also amazing. Of course, there's late nineties CGI but it still holds up. This is in part due to the use of quick cuts and also the use of full scale props.
Don't the Brain Bug and Dissection Beetle both look delightfully disgusting? Oh yeah… I probably should've mentioned, the film doesn't shy away from the gruesome, it revels in it. It's great.
What's Missing From the Book?
It's an adaptation and things invariably change. I'm not saying the film is worse from the exclusion of certain things but they might have been interesting to see.
In the book, there was a third race other than the humans and the bugs, called Skinnies. There's not much about them in the book but it may have been interesting to have them as a bouncing off point, to see how the bugs and the Federation act towards another species.
As for the power suits, the book describes the Mobile infantry as using mobility based gear whereby they'd drop bombs as they quickly leap from location to location.  There are mech suits in Starship Troopers 3: Marauder. Though these seem more bruiser than mobility, in the book I believe there are three different versions (could be two…) so they could just be more reminiscent of the command mech units. I envisioned them more like Starship Troopers: Invasion.
There's another branch of the Federation military, and forgive me if I get the terminology a bit wrong, called the Calebs. Calebs are cybernetically enhanced canine soldiers, bound to a human. I think that's interesting in itself and this is where I'm a bit iffy on the details but I believe if the human dies in combat and the dog doesn't, it needs to be put down as its grief is incurable. It can't be imprinted on another person. Similarly, if the dog dies and the human survives they'd need to go through a lot of grief counselling and may not be fit to partner up with any of the dogs again.
Conclusion
I'd recommend giving it a watch if you've not seen it yet. Although the sequels are of… arguable quality, I will leave you with a catchy song from Starship Troopers 3: Marauder to rouse us in the fight against the bugs:
I'm doing my part!