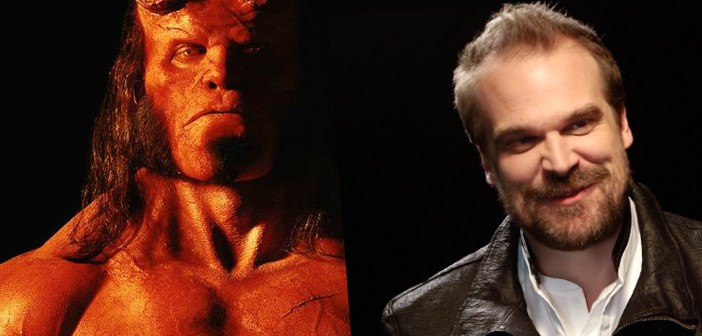 First Look At David Harbour's Hellboy
David Harbour is perhaps best known as the tough sheriff in Stranger Things, but his fans will hardly recognise him in this amazing first look at Harbour as Hellboy for the upcoming reboot.
Check out his new look in the pictures below!
This reboot will serve as a close adaption to Mike Mignola's famous comic book of the same name. Along with David Harbour as Hellboy, he joins Ian Mc Shane as Professor Broom, Milla Jovovich as the Nimue, Blood Queen, Sasha Lane as Alice Monaghan, Penelope Mitchell as Ganeida, and Daniel Dae Kim as Major Ben Daimio.
Director Neil Marshall has said: "Where Hellboy II: The Golden Army was a light fantasy film, this will be very much darker – close to a horror film. I've met some people doing pre-production, and I visit the person doing the creature effects. I'm very happy with what I've seen so far: I give them my two cents, then get out of the way. But I'm very happy they're asking my opinion, and giving me opportunities to solve certain creative problems."
Hellboy's synopsis reads: "The film is about Hellboy going to England, where he must defeat Nimue, Merlin's consort and the Blood Queen. But their battle will bring about the end of the world, a fate he desperately tries to turn away."
What do you think of Harbour's look as Hellboy? Let us know in the comments below!
Doing a little of this, a little of that. If you see me holding a camera, run!