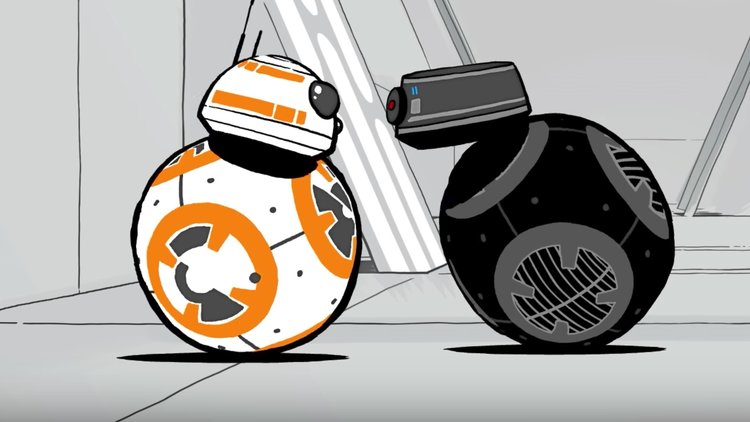 BB-8 Meets First Order's BB-9E In Star Wars Animated Short
Ever since Star Wars: The Force Awakens hit cinemas in December 2015, the cute little rolling droid known as BB-8 has gathered an astounding cult following. R2-D2 and C3-PO were torn from the limelight following the premiere of The Force Awakens, and suddenly BB-8 became the new and fresh cover droid for the franchise.
As Anthony Breznican put it "From the moment Star Wars fans laid eyes on the droid with the roly-poly body and the babyface, it was love". BB-8 merchandise – from socks to alarm clocks, right down to fully functioning robot toys – filled retail shelves during the busy Christmas period and since then the little droid's popularity has never dwindled. He rolled into every geek's heart and it seems as though he's here to stay.
Introducing BB-9E
However, it seems that BB-8 may meet his match in the upcoming addition to the franchise, Star Wars: The Last Jedi. It turns out that the First Order also have their own BB Droid known as BB-9E, who will feature in the next film instalment. Equally as cute as BB-8, but a hell of a lot more sassy, BB-9E could potentially steal the show.
In this quirky animated short, Hey You, the two BB Droids meet for the first time. While the clip is short and playful, BB-9E's brazen little personality makes us wonder whether BB-8 will remain the fan favourite roly-poly droid.
I guess we'll just have to wait until December 15 to find out, when Star Wars: The Last Jedi hits cinemas!