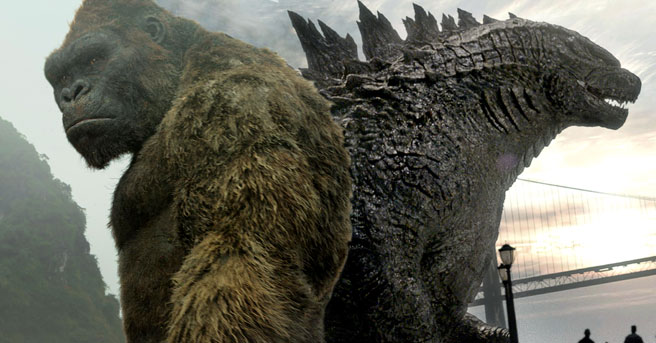 Any readers who saw Kong:Skull Island will know that the franchise can only go one way: more monsters. The  post-credits scene hinted at the likes of Mothra and Rodan, but more importantly it confirmed Godzilla's up to the bat. However, Godzilla Vs Kong sounds a bit confusing owing to the portrayal of both monsters. Kong and Godzilla both seem fairly sound, as monsters go. I can't really see myself rooting for one over the other. Furthermore, I can't see myself liking it as a straight-up action movie if the monster is likable.
Luckily, director Adam Wingard was here to set the record straight in an interview with Screen Crush. Wingard confirmed the film will be a 'a massive monster brawl' but is eager to inject more emotion into the franchise. The director mentions re-watching old Godzilla movies to get himself in the right mindset. Based on this, he notes how well the old films portrayed the monsters as sympathetic figures.
"I was able to directly empathize with that feeling when I really felt like, maybe Godzilla really is going to lose in this movie. That was really important because it helped me remember, going forward on [Godzilla vs. King Kong], the kind of feelings people are going to have when they watch it…That's what I want to do, I really want you to take those characters seriously. I want you to be emotionally invested, not just in the human characters, but actually in the monsters. If I had my way, I want people to really be teary-eyed at the end of the movie, and be that invested in to what's going on." 
So there you have it! Godzilla VS Kong is going to a solid action movie, but it's not blind to human (or monster) element of the story. I'm curious whether to see characters from previous monster movies will make an appearance. The Monarch organization, represented by Ken Watanabe's professor character, seems to pop up across the series. However John C. Reilly's in Kong lived alongside the ape for nearly 29 years on an island. Surely this guy must have some insider knowledge on these giant monsters? Regardless, it's going to be interesting to see these monsters interact on the big screen. The two will be sharing a screen for the first time in decades.
Kong Vs Godzilla is set for a 2020 release.