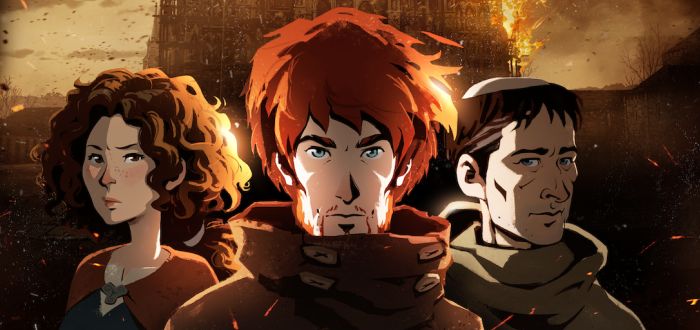 In 2015, Ken Follett announced that Daedalic Entertainment would be working on a video game adaptation of The Pillars of the Earth. And that game is out now. Or at least part of it.
The Pillars of the Earth follows the plot of the novel. We play as Jack, Prior Philip and Aliena as their stories intertwine around the building of Kingsbridge's cathedral. The game will have three episodes, each with seven chapters.
The first episode is called 'Book One: From The Ashes'. Right now, we don't know when books two and three – called 'Sowing the Wind' and 'Eye on the Storm' – will be out but I'm sure Daedalic will say sometime soon.
The game is animated in 2D with hand-drawn backgrounds and it looks stunning, as you'll see below.
The interesting thing about the game is that even though it follows the plot of the novel, there's a catch; some of the choices we make might not necessarily follow the novel, and will change things slightly!
The game is available for PC (GOG and Steam), Xbox One and PS4. The PC version costs €29.99 and the console versions are €39.99.
Are you psyched for the game? Let us know in the comments!
Angry Spaniard, adoptive Irishman. Writer, reader, tea drinker and video game player/designer.