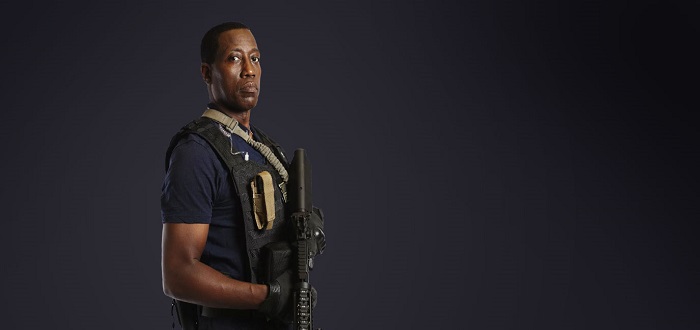 Wesley Snipes Is The Armed Response In New Trailer
Wesley Snipes gave us some very enjoyable films through the 90's and early 2000's. Sadly, due to some tax evasion charges, he was sentenced to a couple of years in prison. Since he returned to the acting world he has had a role in Expendables 3 and on the short lived TV program The Player. Now he returns to those '90s style action movies with his next film. Armed Response is due out this fall and we now have our first look at it.
Armed Response is written by Matt Savelloni and directed by John Stockwell (Crazy/Beautiful). WWE Studios and Saban Films co-operate to produce the movie. As with most WWE Studios films, there is a WWE Superstar involved. This time around it is Colby Lopez (Seth Rollins) and he definitely looks the part in the trailer.
Also in this film are: Anne Heche (Psycho), Dave Annabele (Red Band Society) and Gene Simmons (KISS). The trailer is very typical of those late 90's and early 2000's action movies we are used to. According to IMDB, the plot for the film is as follows:
A team of highly trained operatives find themselves trapped inside an isolated military compound after its AI is suddenly shut down. The crew begins to experience strange and horrific phenomena as they attempt to uncover what killed the previous team.
Armed Response has no theatrical release date, but is expected to be available this fall on DVD and Blu Ray. It definitely looks good enough to at least see if Wesley Snipes still has what it takes to lead an action film. Since I am a fan of his, I definitely will be checking this out when it is released. Watch the trailer below and see if this movie holds any interest for you.
What do you think? Does Wesley Snipes still have 'it'? Will you be watching Armed Response when it comes out? Let us know your thoughts in the comments below.